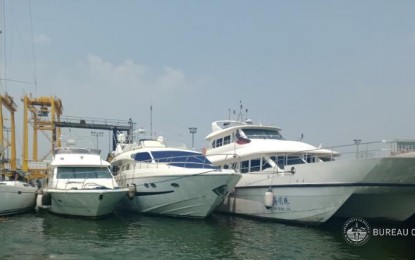 MANILA – Four luxury yachts, worth PHP120 million, without pertinent papers, were seized by the Bureau of Customs-Manila International Container Port over the weekend.
In a statement Monday, Alvin Enciso, chief of Customs Intelligence and Investigation Service at the MICP, said the yachts were seized on Sunday after receiving a report that these were moored at the Manila International Container Terminal Private Pier 18.
"Upon inspection and inquiry to the master, the motor yachts were found to have no pertinent papers onboard," Enciso said.
The yachts named Le Boss, Yuzhen8, Yua Hal Ming Zhu and Gu Cheng Gang Guan had Filipino crew onboard and were moored at the MICT and used as transport services and residences.
Filipino crew members, all claiming to be from Boracay Island, were identified as Angelo Casimero, boat captain of Yua Hal Ming Zhu, and Jerryco Magno, boat captain of Le Boss.
Other crew members were identified as Rio Mar Hormillosa, Albert Casimero, Christian Joy Blancaflor and Banadicto Calinyao.
Enciso said the yachts were also being commercially rented out as venues for events and private use "without the necessary conversion of papers for local use, as well as the payment of proper duties and taxes."
"We got the WSD (Warrant of Seizure and Detention) last Friday, so we brought the yachts to Pier 13 immediately for safety and security," Enciso said.
The import of such vehicles should follow Customs laws and be registered to Philippine authorities such as the Philippine Maritime Industry Authority for water vessels, Enciso said.
"Our mandate at the MICP by the commissioner is to protect all borders from smuggling operations. That also includes monitoring private piers for illegal activities such as these," he added. (PNA)