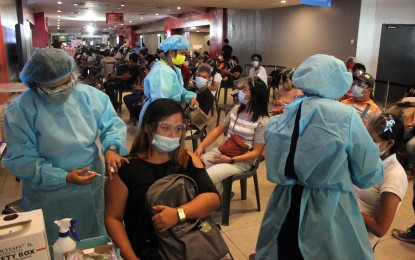 MANILA – The country's Defense chief called on Filipinos to become heroes in their own right by adhering to the health protocols and supporting the government's vaccination campaign in battling the pandemic.
By doing so, Filipinos protect themselves and the community against the virus, and winning the fight can be won only with cooperation, Defense Sec. Delfin Lorenzana said in a statement.
"Sa gitna ng pagsubok na dulot ng pandemya, nawa'y maging inspirasyon natin ang mga bayani noon at ngayon upang gampanan natin ang ating tungkulin at magkaisa para sa kapakanan ng ating bayan (amid the suffering due to the pandemic, may the heroism of past and present day heroes be an inspiration for every Filipino to do their duty and cooperate for the benefit of the country)," he said.
He urged the people to take inspiration from the bravery and heroism of Filipino heroes as the country commemorates on Monday National Heroes' Day.
"Today, we take inspiration from their legacy and heroism as we battle a new and dangerous invader, the Covid-19 virus. The challenges we currently face call upon all of us to become heroes ourselves," he said.
Despite the odds, he added that Filipinos have always fought valiantly against every foreign invader threatening the country's freedom.
"As the nation commemorates this year's National Heroes Day, the DND pays tribute to the heroes of our history who offered their lives and sacrificed for our country. Despite the odds, our forebears fought side-by-side against the Spaniards, the Americans and the Japanese to defend our nation," he added.
Citing present-day heroism, Lorenzana said the willingness to sacrifice for freedom was shown in defense of Zamboanga City in 2013 and Marawi City in 2017 against terrorist groups.
"More recently, we have witnessed heroism amongst our troops in protecting Zamboanga and Marawi against those who threatened to destroy our institutions and way of life," Lorenzana said. (PNA)