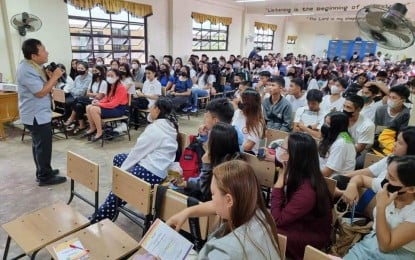 MANILA – The Commission on Elections (Comelec) is intensifying its campaign to educate students on the importance of being a voter and participating in electoral exercises in the country.
In a statement Wednesday, the poll body said it started visiting different schools on Monday to hold voter education seminars, as well as satellite registration activities.
"We have successfully conducted the seminars to a total of 4,629 senior high school students in the provinces of Isabela, Cagayan, Negros Oriental, Tarlac, Bohol, Lanao del Norte, Davao, Zamboanga, and Capiz,"the Comelec statement read.
"It is our hope that we will be able to reach even the remotest island municipalities and the farthest barangays in the fulfillment of our mandate to educate and inform in order to engender a more active and engaged Filipino electorate," it added.
The seminars discussed topics on the importance of being a voter, the step-by-step process of voter registration, the qualifications and duties of elected officials in the barangay and Sangguniang Kabataan (SK), and the fight against disinformation in elections, among others.
Aside from the seminars, the poll body is also conducting registration of voters.
"We were also able to conduct satellite registration in the schools for 738 regular applicants and 982 SK applicants. We have a running total of 1,730 registrants as of day two of the voter education and registration drive," the Comelec added.
Filipinos who are 15 to 30 years old are qualified to register as SK voters, while those aged 18 years old and above are allowed to register as regular voters.