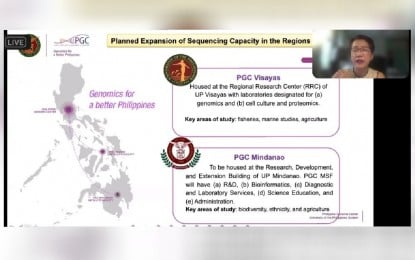 ILOILO CITY – The Philippine Genome Center (PGC) will boost the capability of its centers in Visayas and Mindanao to conduct genome sequencing and determine the variants of the coronavirus disease 2019 (Covid-19) present in their localities.
Dr. Cynthia Saloma, executive director of the University of the Philippines- Philippine Genome Center, said on Friday they plan to provide these centers with machines for surveillance so they can perform emergency sequencing for a fast turnaround time.
"Because of the urgent need to know the circulating (variant) and while patients are in hospital or quarantine centers, we are actually shifting to more active bio-surveillance," she said during a virtual press conference.
While waiting for the funds to acquire machines for the two centers, she said they are also boosting their capacity in Manila. They have five machines that can carry out the sequencing.
Saloma added if a local government unit (LGU) records a spike in their cases, increase in mortality, or there is something unusual with their data, they should immediately coordinate with the Department of Health (DOH) Regional Epidemiology and Surveillance Unit (RESU), which in turn will get in touch with the DOH Epidemiology Bureau to be able to send samples to the PGC at the University of the Philippines in Diliman.
She recommended that Panay Island send more samples, as they only received few specimens, especially with the detection of two local cases of the Delta variant in Antique.
"We need to study more samples from Western Visayas. We need to know if there is onward transmission because it is imperative that we stop this," she said.
Saloma said on July 22, they already sent their proposal to Science and Technology Secretary Fortunato de la Peña for the acquisition of the machines as well as the purchase of reagents for the two centers.
PGC Visayas is housed at the Regional Research Center (RRC) of the University of the Philippines in the Visayas (UPV) with laboratories designed for genomics and cell culture proteomics.
In the same press briefing, Dr. Anna Lisa T. Ong-Lim, member of the DOH Technical Advisory Group and Pediatric Infectious Diseases Specialist, said the purpose of the sequencing is not to change the management of the Covid-19 patient but "to plan system response".
DOH Undersecretary Maria Rosario S. Vergeire said samples that are being sequenced are already confirmed cases.
"When you have a positive case of an individual with Covid-19, we do our current protocols already. They are isolated, constantly monitored and given proper management," she said.
Vergeire added that they are already assured of proper management and just have to be provided with extra layers of management. (PNA)