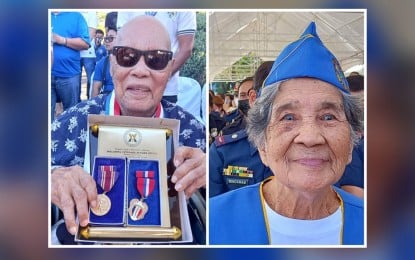 LINGAYEN, Pangasinan – The 15-bed capacity veterans ward at the Region 1 Medical Center (R1MC) in Dagupan City can soon be utilized exclusively by World War II (WWII) veterans and their families.
In his speech during the commemoration of the Lingayen Gulf landings on Monday, Undersecretary for Defense and Philippine Veterans Affairs Office (PVAO) administrator Reynaldo Magapo said the ward has already been finished and they are just waiting for the completion of the equipment for it to be fully operational.
"All veterans and their dependents can avail of the services of the hospital. All services will be free, zero billing, PVAO will pay for their expenses," he said.
He added PVAO remains committed to its mission of ensuring the welfare and well-being of the veterans, as well as perpetuating the memory of heroic heroism.
During the occasion, the oldest eight out of the 48 living veterans in the province have been given recognition through a program, a plaque and PHP10,000 cash each.
Pangasinan Governor Ramon Guico III said the provincial government is developing the capitol grounds and many of the significant cities, municipalities and locations in the province to give a fitting tribute to the veterans who fought for the liberation of the Philippines during WWII.
Guico urged all local government units (LGUs) to allocate funding and give importance to cultural and historical mapping.
"It is high time that the history and very significant events should be passed on to the next generation literally and figuratively. We should not forget the heroism of our fellow Pangasinenses during WWII. That is the commitment of the province to the people of Pangasinan," he said.
The awardees are Ricardo Manzano, Pedro Hireroza, Juan DG Cristobal who passed away last Jan. 2, Marcelo Tapiador, Hospicio Mallari, Adriano Solomon, Valentin Untalan and Victorina Urmaza.
The oldest among them is 106-year-old Valentin Untalan.
"As of October 2022, we have 54 WWII living veterans. However, from October to December 2022, six passed away," said Adelaida Iglesias, 95, one of the veterans.
She recalled that women companions took charge of marketing and cooking foods for the Filipino guerrillas during the world war.
Meanwhile, the "War of our Fathers" A Brotherhood of Heroes exhibit was also opened at the Pangasinan Training and Development Center I in Lingayen town.
Pangasinan annually commemorates the anniversary of the Lingayen Gulf Landings of the allied forces in 1945. (PNA)