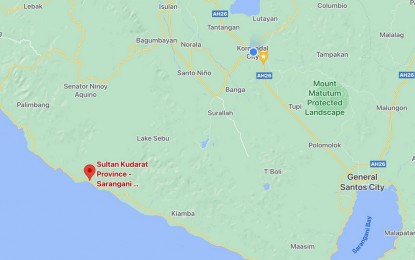 GENERAL SANTOS CITY – Government troops have intensified their monitoring against extortion activities by New People's Army (NPA) rebels based in the mountainous tri-boundaries of Sarangani, South Cotabato and Sultan Kudarat provinces.
Col. Eduardo Gubat, commanding officer of the Army's 603rd Infantry Brigade, said Thursday they received reports that some personalities and companies in the area have been receiving extortion demands from the rebels.
He said they are currently validating recent reports that numerous sacks of rice and other supplies have reached the supposed NPA enclaves in the area.
"We're still determining the origin or possible sources of those supplies," Gubat said in a radio interview.
He said law enforcement agencies and intelligence units are also investigating the matter in coordination with concerned officials.
The Army official, who previously headed the Army-led Joint Task Force GenSan, said such activities should be stopped as it is considered as "terrorist financing".
He acknowledged that some personalities and companies are still swayed by the extortion demands of the NPA and its allied groups under the Communist Party of the Philippines (CPP) and the National Democratic Front (NDF).
Gubat said they should stop entertaining these and instead report the matter to the Armed Forces of the Philippines and the Philippine National Police.
He assured that they are ready to provide them the necessary protection against any threat from the NPA rebels.
"These communist terrorist groups continue to operate out of their collections from the extortion activities," he said.
The 603rd Brigade covers the coastal towns of Datu Odin Sinsuat, South Upi, and Datu Blah in Maguindanao and the coastal towns of Lebak, Kalamansig, and Palimbang in Sultan Kudarat.
Authorities had monitored movements of NPA rebels under Guerilla Front 73 in the tri-boundaries of South Cotabato, Sarangani and Sultan Kudarat.
Eduardo Marquez, director of the National Intelligence Coordinating Agency-12, said they are also monitoring the extortion activities of the rebels on politicians as the filing of certificates of candidacy for the May 2022 elections draw nearer.
The CPP-NPA is listed as a terrorist organization by the United States, the European Union, the United Kingdom, Australia, Canada, New Zealand, and the Philippines. (PNA)