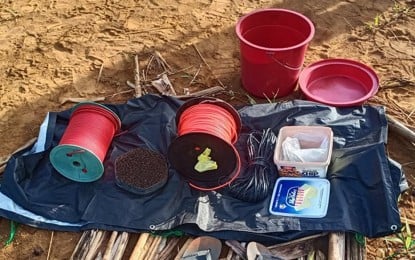 TACLOBAN CITY – The 10-minute clash between patrolling policemen and members of the New People's Army (NPA) in Happy Valley village in San Isidro, Northern Samar on Wednesday foiled a plotted anti-personnel mine attack by rebels in the province.
"The terrorist group attempted to assault the 17 members of the Philippine National Police (PNP) 1st Northern Samar Provincial Mobile Force Company while conducting combat patrol operation at the vicinity," said Brig. Gen. Rommel Cabagnot, PNP Eastern Visayas regional director, in a statement on Thursday.
Policemen spotted bloodstains after the clash, indicating casualties on the enemy side, he said, adding no one from the police was hurt.
The policemen recovered a roll of detonating cord approximately 200 meters long, a roll-time fuse approximately 200 meters long, an electric wire approximately 20 meters long, improvised shrapnel, 500 pieces of blasting cap, a battery for motorcycle, and other personal belongings.
The official suspects the bomb materials are intended to launch treacherous attacks against forces in Northern Samar.
"This rebel group is adding much chaos and panic in the community without feeling remorse by putting the public in danger and instilling fear as well," Cabagnot said.
The whole police force will continue to be vigilant for any possible retaliation from NPA after the chance encounter.
Police operatives are now scouring the area in search of the fleeing rebels.
The Communist Party of the Philippines-NPA is listed as a terrorist organization by the United States, the European Union, the United Kingdom, Australia, Canada, New Zealand, and the Philippines. (PNA)