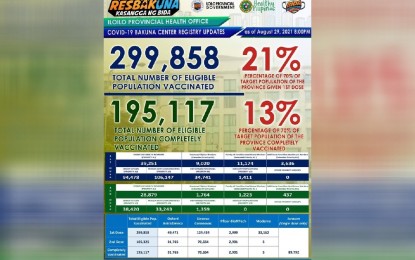 ILOILO CITY – The provincial government here through the Iloilo Provincial Health Office (IPHO) will boost vaccination programs of local government units (LGUs) by carrying out barangay-based inoculation next week.
"We bring the vaccines near to them, to the barangay where they can easily access," said Dr. Ma. Socorro C. Quiñon, head of the IPHO in a phone interview on Thursday.
She said that the provincial government will assist municipalities overwhelmed by their inoculation program through the "Bulig Bakuna sang Probinsya: The Barangay Vaccination Rollout."
The IPHO will deploy its vaccination teams to municipalities with thickly populated areas, with a high incidence of confirmed cases, and those with eagerness to be part of the rollout.
"Our staff at the provincial health office will provide for the vaccines," she said, adding that they will not source the vaccines that are already allotted to the rural health unit (RHU).
Currently, the IPHO has 11,800 doses of provincial government-procured AstraZeneca that can be stretched to cater up to 13,000 vaccinees while 50,000 doses of Sinovac are expected to arrive anytime this week.
The target barangays will be identified by the RHU, which will also deploy one staff to assist the IPHO.
The barangay officials will provide the list of target vaccinees with their schedule, coordinate with the municipal disaster risk reduction and management office for an ambulance that will be deployed in case of adverse events during the inoculation and the local Philippine National Police for security and ensure that there is no congestion of people in the venue.
On Thursday, the municipality of Sta. Barbara has already signified its interest for a rollout in three of its barangays targeting 700 individuals while the town of Pavia is eyeing to bring the program to Barangay Balabag.
Quiñon said that they will accommodate those belonging to the A1 to A5 priority group composed of health care workers, elderly, persons with comorbidities, economic front-liners, and indigent population.
"Hope to see you there in one of the barangays and I hope very soon you can get your dose of the vaccine that is your right and that is your responsibility," she added.
The province is expected to vaccinate at least 70 percent or equivalent to over 1.4 million of its eligible population by Nov. 28.
As of Aug. 29, however, 21 percent or equivalent to 299,858 of the target population have received their first dose while 13 percent or 195,117 are completely vaccinated. (PNA)