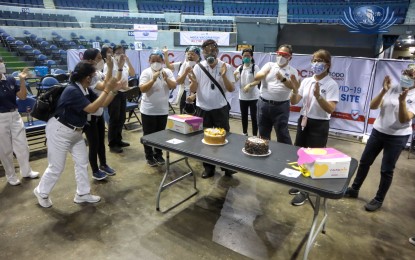 MANILA – The Quezon City government has administered 901,839 coronavirus disease 2019 (Covid-19) vaccine doses as of Tuesday morning.
At its current rate of 50,000 individuals daily, the city government is confident it can meet its target population protection of 1.7 million this year.
Data from the QCProtekTODO Vaccination Program as of 8 a.m. showed 663,828, or 39.05 percent of the target population, has been vaccinated with the first dose.
A total of 238,011, or 14 percent of the target, are protected with two doses.
The city's vaccine supply is nearly depleted but Mayor Joy Belmonte assured second doses will continue.
"We will continue vaccinating second doses because we have reserved the vaccines for the second doses," Belmonte said in a statement.
Night vaccination had to be canceled on Tuesday due to limited supplies.
Once stable, the program may be expanded to 24 hours from its usual 6 p.m. to 9 p.m. schedule and more sites will be set up other than the current one at the City Hall grounds.
Belmonte cited Novaliches, where there are thousands of workers in the manufacturing sector, as a priority area.
"We are planning, if there are more supplies, to open another Bakuna Nights center in Novaliches area," she said. (PNA)