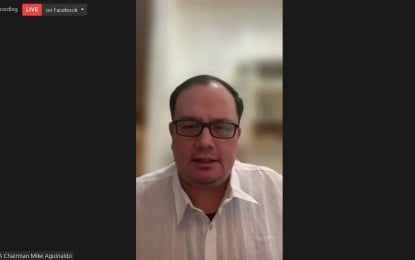 MANILA – The Commission on Audit (COA) on Friday said it will check the government's expenditures for the coronavirus disease 2019 (Covid-19) vaccines amid the non-disclosure agreement (NDA) in its vaccine supply contracts.
During the House appropriation committee's hearing on the commission's proposed budget for 2022, COA chairman Michael Aguinaldo said he believes that the state audit body will be exempted from the NDA, which conceals the prices of procured vaccines.
Aguinaldo argued that it is COA's constitutional mandate to audit government processes and transactions that could be considered as an exemption to an NDA.
"Mag a-audit ng lahat ng (All) expenditures relating to the vaccines (will be audited)," he said. " We already issued guidelines for our auditors in the audit of the national vaccination program."
Meanwhile, Anakalusugan party-list Rep. Mike Defensor said COA should also look into the purchases made by local government units, stressing that parameters should be made in pricing especially under a public health emergency.
Defensor claimed that the Quezon City government purchased grocery or "ayuda" (aid) packs, food packs, and Covid-19 kits that were overpriced.
He said the "ayuda" packs were overpriced by PHP179.89 million, Covid-19 kits by PHP130 million, and food packs by PHP131 million.
Defensor said national agencies, as well as local government units, should not take advantage of the health crisis to overprice the purchase of goods or services in the guise of helping people.
"I'm sure this is not just happening in Quezon City but in many agencies," Defensor said.
Aguinaldo, for his part, said that the commission will look into the overpricing issue.
"I have the local government sector to take a look into it," Aguinaldo said.
QC lawyer Nino Casimiro, however, has assured that all procurements by the Quezon City government undergo scrutiny by the COA.
Casimiro made the statement after Defensor accused the local government of acquiring 400,000 pieces of face shields that were overpriced by PHP24 million.
Defensor has filed House Resolution 2143, urging an inquiry as he claimed that QC bought the face shields for PHP67.50 per piece from supplier Strength Medical and Drug Supply on Dec. 21, 2020.
He said a face shield at that time costs just PHP10 per piece.
Casimiro said the procurement underwent an emergency bidding process wherein there were other qualified participants and QC picked the one with the lowest price.
"The public can rest assured that these were meticulously audited and scrutinized by the Commission on Audit, which gave the present QC administration a full clean opinion and the highest audit score that the city has ever managed throughout its long history," he said. (PNA)