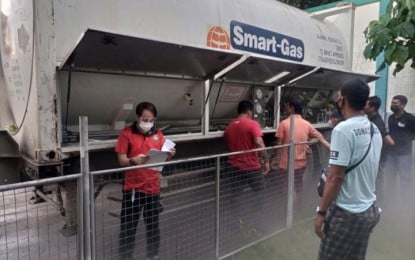 ZAMBOANGA CITY – The city government has procured additional medical liquid oxygen to augment the depleting oxygen supply of local hospitals amid the spike in coronavirus disease 2019 (Coid-19) cases here.
Mayor Maria Isabelle Climaco-Salazar said Tuesday that International Organization for Standardization (ISO) tanks containing 13,357 cubic meters of liquid oxygen, equivalent to 2,300 cylinders of 50 pounds each, have arrived Friday from Cagayan de Oro City.
Salazar said that another batch of ISO tanks, containing the same amount of liquid oxygen, is arriving within the week for the same purpose.
Salazar said that the medical oxygen will be distributed to the government-run Zamboanga City Medical Center (ZCMC) and private hospitals as well as this city's isolation facility in Barangay Pasonanca.
The ISO tanks of liquid oxygen were procured from Nippon Sanso Ingasco Phils, Inc., through the facilitation of the Department of Health (DOH) 9 Zamboanga Peninsula(), and National Task Force Against Covid-19 chief implementer-cum-vaccine czar Secretary Carlito Galvez.
Earlier, Salazar and the local Inter-Agency Task Force on Covid-19 also facilitated the delivery of medical oxygen supply for private hospitals from Cebu through the Philippine Coast Guard.
Hospitals in the city, both public and private, are overburdened due to the influx of Covid-19 cases, a number of them with severe symptoms, which resulted in the shortage of beds, oxygen supply, medicine, and manpower.
As of October 24, the city has a total of 20,145 confirmed Covid-19 cases, with 16,821 recoveries, 2,437 active cases, and 887 deaths.
The ZCMC reported Tuesday that there are currently 194 patients admitted in the Covid-19 wards and emergency room.
Ten of the Covid-19 patients at ZCMC are in critical condition, while about 39 percent of the patients have severe symptoms.
Currently, 11 patients are intubated and 22 patients are still on high flow oxygen, according to the report of the ZCMC.
The city health office has converted the Pasonanca Convention Center into a temporary mini-infirmary to help decongest local hospitals. (PNA)