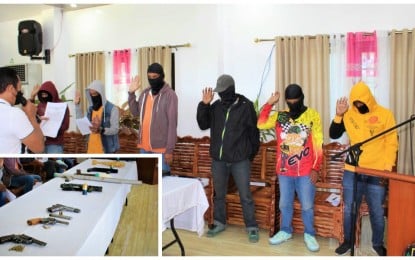 CAMP SK PENDATUN, Maguindanao – Seven members of the outlawed Bangsamoro Islamic Freedom Fighters (BIFF), including two mercenaries for hire, have voluntarily surrendered to police authorities in the Bangsamoro Autonomous Region in Muslim Mindanao (BARMM) on Monday afternoon.
Brig. Gen. Eden Ugale, BARMM police director, said two of the seven gunmen had worked as guns-for-hire of some politicians in Maguindanao.
Declining to give the identities of the surrenderers for security reasons, he said the group belonged to the BIFF-Karialan faction operating at the border of Maguindanao and North Cotabato provinces.
They turned in a .38-caliber pistol, a homemade "fortylite" revolver, a .45-caliber pistol, three M79 grenade launchers, a rocket-propelled grenade launcher, and ammunition during their surrender inside this Police Regional Office-BARMM headquarters in Parang, Maguindanao.
One of the surrenderers also yielded a powerful improvised explosive device rigged from an 81mm mortar round with a mobile phone as a triggering device.
The BIFF is an ISIS-inspired group linked to various bombings and harassment activities against government forces and communities in Central Mindanao.
Ugale said the gunmen decided to surrender through the help of Vice Mayor Herodin Guiamano of Datu Salibo town and the office of Colonel Jibin Bongcayao, the Maguindanao provincial police director.
"Congratulations, you made the right decision of peacefully laying down your firearms," Ugale told the surrenderers during the program.
PRO-BARMM records indicated that more than 70 BIFF members have surrendered to police in Maguindanao and Lanao del Sur since January this year. (PNA)