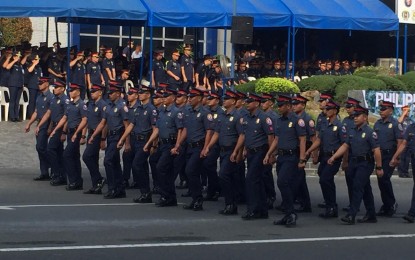 MANILA – Philippine National Police (PNP) chief Gen. Guillermo Eleazar on Tuesday called for the creation of a database of rogue and dismissed cops, preventing their reinstatement in the force.
Eleazar tasked the Directorate for Personnel and Records Management to create a database of personnel removed from the police service and ordered that all motions for reconsideration filed by dismissed police personnel be immediately resolved.
"Inatasan ko na ang Director, DPRM, na gumawa ng database ng lahat ng mga na-dismiss na pulis at agarang iresolba ang kanilang mga motions for reconsideration upang maagap nating maharang ang anumang pagtatangka nilang makabalik sa serbisyo (I have instructed the Director, DPRM, to make a database of all dismissed policemen and immediately resolve their motions for reconsideration so that we can promptly stop any attempt by them to return to service)," Eleazar said in a statement.
The National Police Commission (Napolcom) would facilitate the resolution of appealed administrative cases and permanently remove from service those found corrupt and abusive, the top cop said.
The Napolcom administers police entrance examinations and conducts pre-charge investigations of police anomalies and irregularities, as well as summary dismissal of erring police officers.
Eleazar wanted the police's legal service unit to review the administrative rules and regulations and strengthen measures that would prevent dismissed cops from rejoining the service.
Since he took office as PNP chief, Eleazar has been vocal about his campaign against erring policemen, as part of his intensified cleanliness policy, which includes cleansing the police ranks.
Eleazar urged the public to report any complaint or concern on their community or even PNP personnel involved in any irregularities through its official SMS hotline -- 0919-160-1752 (Smart); 0917-847-5757 (Globe).
Information may also be forwarded to their email address: e-sumbong@pnp.govph or through social media -- facebook.com/OfficialPNPhotline and web portal (https://e-sumbong.pnp.gov.ph)
As of June this year, a total of 5,151 police officers have been dismissed from the service due to various offenses since 2016 as a result of the intensified internal cleansing program of the PNP.
Citing the latest data, Eleazar said a total of 18,664 police personnel were also penalized for various offenses.
The dismissed personnel were involved in cases ranging from grave misconduct, serious irregularities and other criminal activities while some members of the police force were meted disciplinary sanctions for administrative offenses and involvement in irregularities.
These penalties include demotion in rank, suspension, forfeiture of salary, reprimand, restriction to quarters and withholding of privileges. (PNA)