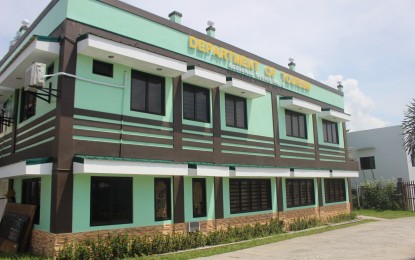 TACLOBAN CITY – The Department of Tourism (DOT) in Eastern Visayas finds it worrisome to let local government units assume some tourism-related functions in 2022 due to the practice of replacing trained officers with "unqualified" ones every election year.
"This a top concern as the tourism department brace for devolution of tourism programs to local governments starting next year," DOT Eastern Visayas regional director Karina Rosa Tiopes said on Wednesday.
"We are changing tourism officers after every elections. That is the challenge since some trained tourism officers are replaced after three years by someone who has zero knowledge about tourism," Tiopes told the Philippine News Agency.
Republic Act 9593 mandates each province, city, and municipality to hire a tourism officer who has a bachelor's degree in tourism, business, law, economics, marketing, public administration, or other related fields; at least five years of substantial work experience and involvement in the tourism industry either in the private sector or government; and must undergo and pass the training programs undertaken by the DOT.
Tourism officers are tasked to prepare, implement, coordinate, monitor, and update local tourism development plans; ensure the proper enforcement of tourism standards, laws, rules, and regulations; submit regular reports on the status of tourism plans and programs, tourist arrivals, employment, occupancy rates, investment, and tourism products.
They are also tasked to coordinate with the tourism department and its attached agencies and corporations regarding the development and promotion of tourism in their locality
Tiopes said aside from incompetent tourism officers, also hounding the implementation of local tourism programs is the absence of office space and lack of or no personnel assigned to assist a tourism officer.
"There is a 'one-man show' provincial tourism office in the region. No staff has been assigned to assist him. Sometimes, he is given other tasks by the governor not related to tourism," Tiopes added.
To somehow address this challenge, the tourism department will come up with a guidebook for local government units in support of devolution transition plans.
National government agencies and local government units have been asked to strengthen their coordination to prepare for the Supreme Court ruling that will give more functions to local governments starting 2022.
In terms of tourism, the tasks that will mainly be devolved to local government units next year is the formulation of tourism policies, plans, and projects for the development of tourism as an engine of socio-economic and cultural growth.
"Starting 2021, we will not provide funds for planning activities. What we can provide is technical assistance. We will not prepare plans for them anymore," Tiopes said. (PNA)