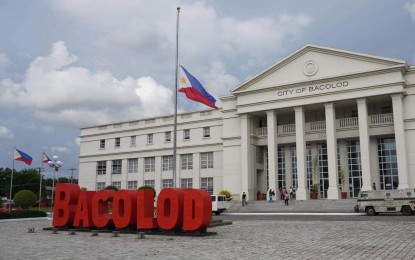 BACOLOD CITY – With the sustained decline in its coronavirus disease 2019 (Covid-19) cases in the past month, this city is being considered as a model in pandemic response among the local government units (LGUs) in Western Visayas.
On Wednesday, the region's local chief executives, including Bacolod City Mayor Evelio Leonardia, met in an online meeting, where they discussed strategies being implemented by LGUs amid the surge in cases in some cities and provinces and the detection of new variants.
This is the second meeting of the Western Visayas leaders this week after the one held on Aug. 23, where City Administrator Em Ang outlined the Covid-19 response of Bacolod.
"We shared Bacolod's programs so that other LGUs in Region 6 may learn from them and adopt the same strategy where they are applicable," she said.
According to a city government report, Iloilo City Mayor Jerry Treñas himself exhorted his fellow officials in Western Visayas to adopt Bacolod's strategies on how it managed to sustain the decline of infections in the past four weeks.
"Let us ask Bacolod City and Negros Occidental why their cases are on the decline. Let us adopt what they are doing," Treñas said.
Bacolod is under general community quarantine with heightened restrictions (GCQ-HR) while Negros Occidental is under GCQ until Aug. 31.
Both Iloilo City and Province as well as Aklan are under modified enhanced community quarantine (MECQ) also until the end of the month.
Nine barangays in Iloilo City have been placed on localized containment-surgical lockdown effective Wednesday due to the detection of Delta variant cases in their areas.
Bacolod itself has reported six cases of Delta variants, but all of them have already recovered.
In her presentation, Ang said that Bacolod is guided by the PDITR or the Prevention, Detection, Isolation, Treatment, and Re-integration strategy issued by the national Inter-Agency Task Force for the Management of Emerging Infectious Diseases.
The city government then adopted a five-pronged approach, she added.
These include requiring those coming from Manila and Cebu to present a negative RT-PCR (reverse transcription-polymerase chain reaction) test result upon arrival; advising new arrivals or anyone, especially those on the waiting list, to be confined or quarantined at the hospital, accredited hotels, or government-managed isolation facility; not allowing those found positive to go through home quarantine; immediately transferring to isolation facilities those found positive; and sealing the residence of first-degree close contacts with the help of barangay.
"Since local governments are in the frontlines, it is good to share local practices and challenges in the fight against the Covid-19 pandemic. That way, we learn from the experience of others and we can replicate what works best in addressing this public health crisis," Ang said.
She added that the city government has also strengthened public compliance with minimum health protocols, monitored workplaces such as call centers, casinos, and banks, discouraged mass gatherings, and accelerated vaccination of vulnerable sectors.
As of Aug. 23, about 37 percent of Bacolod's qualified population for vaccination have already received their first dose while 22 percent have been fully vaccinated. (PNA)