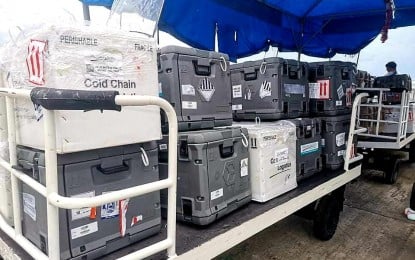 TACLOBAN CITY – Eastern Visayas region has already received 2,854,380 doses of coronavirus disease 2019 (Covid-19) vaccines in the past seven months, raising confidence the region will achieve population protection before end of the year.
In a report released by DOH on Wednesday, of the total doses of vaccines received as of Oct. 26, some 1,618,770 doses are Sinovac; 649,350 doses Pfizer; 257,560 doses AstraZeneca; 191,700 doses Moderna; 132,200 doses of Janssen; and 4,800 doses of Sputnik V.
"Because of the government's efforts in securing allocations of these vaccines, 889,789 individuals in the region have already received their first dose of the Covid-19 vaccine, and 722,216 or 21 percent of the targeted 3,362,637 are now fully vaccinated as of Oct. 22," the DOH regional office here said in its report.
The health department emphasized the need to ramp up the vaccination drive in the remaining weeks of the year to protect the population from the spread of Covid-19.
"Moreover, 31 percent of this target population already received at least one dose of the Covid-19 vaccines, and there are still a total of 2,326,976 individuals who are yet to get vaccinated before herd immunity is realized in the region," the DOH stated.
"The DOH regional office together with its partner agencies, will continue its unprecedented efforts in its Covid-19 vaccine rollout from the core of its planning stage to the ground implementation of the vaccination program which is now open for the general adult population, or eligible 18-year olds and above," the agency added.
Local government units are eyeing to administer vaccines to 3.36 million residents, representing 70 percent of the region's total population.
Despite expanded vaccine coverage, the DOH ensures adequate supply for the population most vulnerable to severe Covid-19 and deaths such as the elderly, and those with comorbidities.
"Also, we are currently in discussion to sum up strategies in anticipation of vaccinating those between 12 and 17 years old, in the region. The pilot implementation is expected to launch next week where those with comorbidities are prioritized. This is currently exclusive to those who are admitted in hospitals due to underlying health conditions," the DOH said.
As of Oct. 27, the region has already recorded 50,520 confirmed Covid-19 cases, including 49,479 recoveries and 559 deaths. This brings the total active cases to only 482 or just 0.95 percent of the total. (PNA)