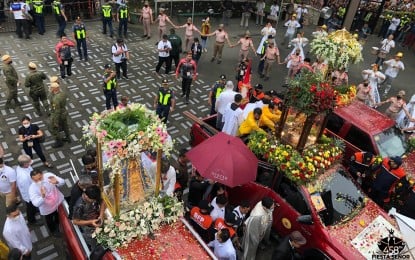 CEBU CITY – All is set for the fluvial procession of the Holy Image of the Sr. Sto. Niño de Cebu and the Our Lady of Guadalupe aboard a "Galleon" on Saturday morning, the Philippine Coast Guard-Central Visayas (PCG-7) said Friday.
Lt. Junior Grade Stephen Pagcaliwagan, PCG-7 spokesperson, said more than 180 vessels and watercraft registered to join the procession that will start at the Naval Base Rafael Ramos, headquarters of the Naval Forces Central in Barangay Canjulao, Lapu-Lapu City.
Seventeen yachts, 17 tugboats, and over 130 motorbancas and small vessels will join the procession.
Fr. Nelson Serda, rector of the Basilica Minore del Sto. Niño de Cebu said the image of the Holy Child and Our Lady of Guadalupe are now at the National Shrine of St. Joseph in Mandaue City after the Traslacion from Cebu City.
A send-off Mass will be held in Mandaue Parish Church before the images are sent to Lapu-Lapu City.
"At 11 p.m. today (Friday), the image of the Sto. Niño will be sent to the National Shrine of the Birhen sa Regla (Our Lady of the Rule) in Lapu-Lapu City for the fluvial procession at dawn on Saturday," the Augustinian friar said.
At 4 a.m. Saturday, a Holy Mass will be celebrated at the National Shrine of the Nuestra Señora Virgen de Regla before the images are transported through a mobile procession to the Naval Base in Barangay Canjulao in Lapu-Lapu City where the fluvial activity will begin.
The procession will be extended up to the NuStar Casino Resort and Casino at the Kawit Point of the South Road Properties, passing under the iconic bridge, the Cebu-Cordova Link Expressway, where the Galleon carrying the image of the Sto. Niño and other sea-going vessels will make a turn before going back to Pier 1.

Solemn foot procession
The fluvial procession will pass by the Mactan Channel and will end at Pier 1 where the priests, religious, and a handful of devotees will receive the image. Then the image would be brought back to the Basilica Minore del Sto. Niño for the afternoon's Solemn Foot Procession.
At 9 a.m. Saturday, Serda will lead the clergy in a solemn mass that will commemorate the first mass held in the Philippines.
On the same day, at 1 p.m., a solemn foot procession will be held for the Holy Child's image from the 457-year-old Basilica and around the capital city's uptown district and back to the church.
This will be followed by "Visperas" pontifical mass after the arrival of the holy image at 6 p.m. which will be celebrated by Cebu's Auxiliary Bishop Ruben Labajo.
At 6 a.m. on Fiesta Señor Sunday, Cebu Archbishop Jose Palma will lead the devotees to a pontifical mass at the Basilica's Pilgrim Center. (PNA)