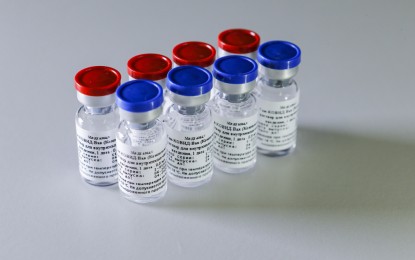 MANILA – The Philippine National Police (PNP) has received 9,900 doses of the Russian-made Sputnik V coronavirus disease 2019 (Covid-19) vaccines.
In a message to the Philippine News Agency (PNA) on Thursday, PNP deputy chief for administration Lt. Gen. Joselito Vera Cruz said the jabs will be given to PNP personnel as first dose.
"(These Sputnik V which arrived Monday) are for first doses so (it is) Component 1," he added.
Vera Cruz said vaccination using Sputnik V jabs started on Monday.
"Ongoing first dose vaccination. We have received last Monday vaccine allocation of 9,900 Sputnik V vaccines (which will be) administered till Friday," he added.
He said the PNP Multi-Purpose Center in Camp Crame was used as a vaccination site.
Around 1,500 of the Russian-made vaccines are allocated daily during the period while excess or unutilized doses will be given to the National Capital Region Police Office, Aviation Security Group and the Special Action Force.
Vera Cruz also said a total of 57,933 police personnel have received their first dose of Covid-19 vaccines while 17,054 have been fully vaccinated.
As of Thursday, the PNP logged 63 new cases. This brought the active case tally to 1,386 out of a total of 29,137 infections.
Another 86 recoveries were also reported bringing the number of recovered PNP personnel to 27,674 while the number of fatalities remained at 77. (with Lloyd Caliwan/PNA)