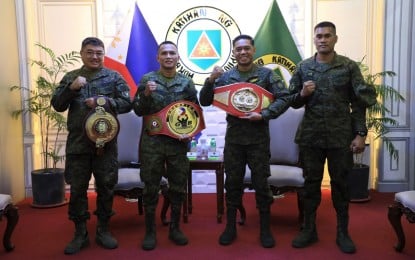 MANILA – Philippine Army (PA) commander Lt. Gen. Romeo Brawner Jr. has assured all athletes enlisted in the service that they would be provided with the necessary support to ensure their professional growth so they could continue to bring honor to the country.
Brawner made this commitment after champion boxer, Pvt. Charly Suarez, visited him at the Army headquarters in Fort Bonifacio, Taguig City on Thursday to thank the PA leadership for their untiring support for his recent boxing matches.
"Lt. Gen. Brawner discussed that the Army constantly recognizes individual skills and capabilities to empower them to do the best they can for the country. The Army chief also assured the Special Service Center, Installation Management Command that the command will continue to optimize the utilization of funds that would help with the Army boxer's developing career," PA spokesperson Col. Xerxes Trinidad said in a statement Friday.
Trinidad said the support for Army athletes could be in the form of "more training and exposure," including training in the country and abroad and other skills enhancement activities.
Suarez recently bagged the International Boxing Federation (IBF) Asia Junior Lightweight belt after beating his Indonesian opponent Defry Palulu via technical knockout (TKO) in Vietnam on December 10.
"The Army champion boxer said his latest victory will usher toward a world boxing championship belt next year. Pvt. Suarez's professional boxing record remained unblemished with 14 wins, 0 losses, and seven knockouts. Pvt. Suarez is coached by Army reservist 1st Lt. Delfin Boholst," Trinidad said.
PH Army gets 2 vehicles from AFPMBAI
Meanwhile, the PA received two new vehicles from the Armed Forces and Police Mutual Benefit Association, Inc. (AFPMBAI) on Thursday.
"Army vice commander, Maj. Gen. Adonis R. Bajao, received one ambulance and one garbage compactor from AFPMBAI executives led by its president and chief executive officer (retired) Maj. Gen. Rizaldo B. Limoso. The ambulance will be turned over to the 11th Division Training School, 11th Infantry Division while the garbage compactor will be utilized by the Headquarters and Headquarters Support Group, Philippine Army," Trinidad said.
The donation is part of the AFPMBAI's Health and General Welfare Program, which benefits the organization's members and families.