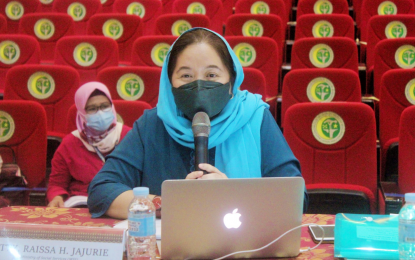 COTABATO CITY – Members of the Bangsamoro Transition Authority – Bangsamoro Autonomous Region in Muslim Mindanao (BTA-BARMM) here rejoiced as the Senate moved closer to approving the bill seeking the postponement of the regional polls to 2025.
BTA Member of Parliament Raissa Jajurie, in a statement on Friday, said she co-authored a resolution that hailed the Senate for passing on second reading Senate Bill (SB) 2214 that aimed to reset the BARMM elections from 2022 to 2025, extending the region's transition period for another three years.
Jajurie said the intention of BTA's passing the resolution was to highlight the process of the bill presented properly to the Senate members as it reaches the second reading towards its enactment.
She said the Senate on August 25 approved SB 2214 on second reading, bringing it "one step closer to final approval."
"We want to thank every senator, even those who voted 'No', for participating in the discussion and raising issues that may be important for us," she said.
Jajurie said the Senate's move made the regional officials even more optimistic that the bill would hurdle the process at the legislative branch ahead of the filing of certificates of candidacy for next year's polls.
The BTA resolution cited the collective contribution for the "fruitful deliberation" of SB 2214 of Senator Francis Tolentino, who authored the bill, Majority Floor Leader Juan Miguel Zubiri, and Minority Floor Leader Franklin Drilon, under the stewardship of Senate President Vicente Sotto.
"While we commend the whole of the Senate as an institution for approving it (SB 2214) on second reading, we're also commending the officials and mechanisms that brought the bill to that point," said Jajurie, also BARMM's social services and development minister.
If enacted, the legislation would allow the BARMM interim government to fully accomplish its mandated duties, as cited in the Bangsamoro Organic Law, which was hampered by the pandemic. (PNA)