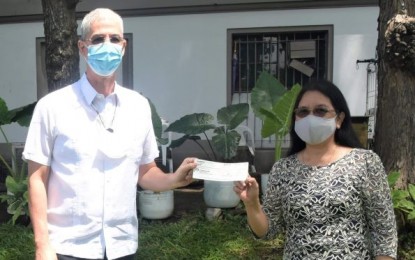 BACOLOD CITY – Fourteen school districts in 10 municipalities under the Department of Education (DepEd) Division of Negros Occidental received a total of PHP30 million in financial assistance for various projects from the provincial government.
The allocation was sourced from the Special Education Fund set aside for the Provincial School Board.
In a statement on Tuesday, Provincial Schools Division Superintendent Marsette Sabbaluca said she received the check from Governor Eugenio Jose Lacson during the turn-over rites held at the Capitol Grounds on Monday.
She said the amount of PHP3 million will be allotted to each of the 10 municipalities.
"We allot the amount to various projects for the improvement of the schools. We thank the governor for this assistance," Sabbaluca added.
The recipients included the school districts in Moises Padilla, Don Salvador Benedicto, San Enrique, Murcia, Pontevedra, E.B. Magalona, Valladolid, Toboso, Hinigaran, and Ilog.
Identified projects are construction or repair of water, sanitation, and hygiene or WASH facilities especially for schools without water supply; handwashing facilities; and comfort rooms. Some schools use the fund for the construction or repair of classrooms and perimeter fences.
Meanwhile, on Monday, Lacson also turned over a PHP5-million subsidy to Negros Occidental High School for small infrastructure projects and payment for utilities, security, and non-teaching personnel and PHP3.35 million for various school operations and projects of the Negros Occidental National Science High School. (PNA)