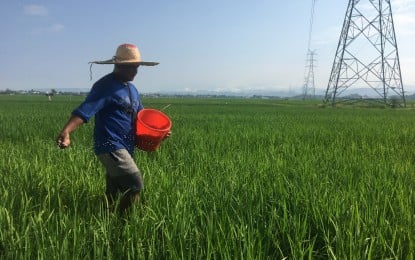 MANILA – House Committee on Appropriations chairman Zaldy Co on Monday expressed support to the 40-percent increase in the budget of the Department of Agriculture as it would help increase food supply and reduce prices.
During the budget hearing, Co described as "unprecedented" the huge percentage increase in the agriculture sector's budget from PHP117.29 billion in 2022 to PHP163.75 billion in 2023.
"This budget increase should ensure the country's food security—meaning, as per President Marcos's directive, local food supply should increase and, by the law of supply and demand, result in lower food prices," Co said.
Co said the House also supports President Ferdinand "Bongbong" Marcos Jr.'s directive to strengthen the agriculture sector to achieve food security and sufficiency.
"This institution is united with the President in building and strengthening the foundations of our agricultural economy for an even stronger national food security. We strive for a more prosperous, climate-resilient, and empowered Filipino countryside," he said.
Co, citing Marcos, also noted that agriculture is a major driver of economic growth and job creation.
"The road ahead is difficult but surmountable. As the nation embarks on a new chapter of socio-economic transformation, the agriculture sector must remain at the forefront of our collective effort to create more jobs and reduce poverty, and improve the lives of every Filipino, especially farmers and fishermen," he said.
Deputy Speaker Ralph Recto earlier said the budget increase should be supported because "to beat hunger, a country should not starve its farming sector of funds."
"You can say that this is the beginning of the end of a funding drought," Recto said.
Recto said eight big agricultural agencies deemed as government corporations will likewise be getting hefty increases in budgetary subsidy from the national government.
From PHP46.2 billion this year, subsidies to the National Food Authority, Sugar Regulatory Administration, National Irrigation Administration, Philippine Rice Research Institute, Philippine Fisheries Development Authority, National Tobacco Administration, Philippine Coconut Authority, and National Dairy Authority will go up to PHP62 billion or 33 percent jump.
Of the eight, the NFA will post the biggest hike, a 71 percent jump from PHP7 billion to PHP12 billion. This will allow NFA to hike its buffer stock capacity from nine days to 15 days.
Next is SRA, which has been earmarked a budget subsidy of PHP1 billion, up by 41 percent, from this year's PHP712.2 million.
At the so-called "DA Proper", the Office of the Secretary (OSEC) will see its budget surge from PHP61 billion to PHP90.2 billion, a 48 percent or PHP29 billion hike.
The OSEC will run the National Rice Program whose allocation will be doubled from PHP15.8 billion in 2022 to PHP30.5 billion in 2023. (PNA)