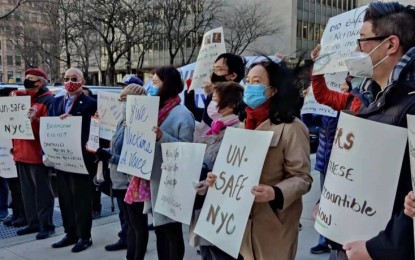 MANILA – The Department of Foreign Affairs (DFA) on Monday assured Filipinos living in and traveling to New York that recent incidents against Filipinos in the city have not made it more dangerous.
In a statement, DFA Acting Undersecretary for Migrant Workers' Affairs Eduardo Jose de Vega reiterated the assurance from Philippine Consul General in New York Elmer Cato.
"There is, therefore, no cause for alarm, but Filipinos living in or traveling to New York must remain vigilant and exercise situational awareness, as in any other big city," de Vega said.
On Tuesday, Cato previously stated that the situation in New York City has not "reached the point where it has actually become a dangerous place which Filipinos should avoid."
"Incidents such as those that have been taking place in the past year and a half have been happening for the longest time and have involved not only Filipinos but also people of other races. Cases of violence and other criminal acts also take place in other cities around the world," he said.
Although Filipinos are not deliberately targeted, he said isolated incidents against Filipinos have been "on the rise."
"As such, Filipinos need to be vigilant and situationally aware when in New York," he said.
Last week, the Philippine Consulate General in New York reminded Filipinos to be vigilant when in the city after a 74-year-old Filipino woman was assaulted by another woman unprovoked.
Cato said most high-profile cases of unprovoked assaults against Filipinos in New York involve elderly women such as the recent victim, with the increase in attacks against Asians beginning since the coronavirus pandemic started in 2020. (PNA)