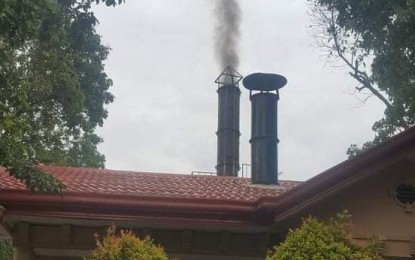 CAGAYAN DE ORO CITY – The crematorium facility run by a private company here will halt its operations following complaints made by residents, the City Local Environment and Natural Resources Office (Clenro) said.
In a Facebook post on Wednesday night, Clenro chief Armen Cuenca said the management of Divine Shepherd informed their office that it will "voluntarily stop" their operation starting Thursday in order to make some adjustments on their equipment.
"We regret to inform the public that we can only accommodate a limited number of remains to be cremated by our other partner funeral (provider)," he said.
The concern of residents about the dark smoke emanating from the crematorium facility, located in Barangay Bulua, has been posted on Facebook on Aug. 27 and went "viral".
On Aug. 31, one of the residents, Jane Saligumba, was invited to a television program hosted by media personality Raffy Tulfo.
Saligumba claimed that the crematorium facility had been releasing heavy dark smoke for three to six years, causing health problems. She added during the interview that the crematorium's operations became frequent since the pandemic began.
Cuenca, who also heads the city's Management of the Dead cluster, has partnered with private funeral service providers in either burying or cremating dead Covid-19 patients.
"The black smoke will only be released for only five minutes since the beginning of a cremation process. This is because other things will be included in the cremation like the body bag that's made of PVC (polyvinyl chloride) materials; (also including) cellphones, laptops, and other items of the dead (used to have) from the hospital," he said in the vernacular.
The local government had spent around PHP27 million since last year on providing free cremation and burial services to those who died of Covid-19 and suspected Covid patients who passed away prior to the release of laboratory results.
Meanwhile, Dr. David Mendoza, Local Health Support Division Chief of the Department of Health (DOH) in Region 10, said Northern Mindanao only has one crematorium facility in the region, located in this city.
Based on DOH guidelines, cadavers are not allowed to be transported outside of their place of origin.
"So those bodies cremated are only (based) in CDO (Cagayan de Oro)," he said.