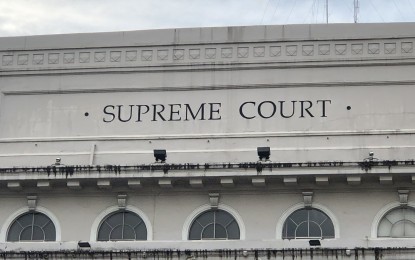 MANILA – The Supreme Court (SC) on Thursday announced the reorganization of its divisions following the appointment of its new member, Associate Justice Japar B. Dimaampao.
Under Special Order No. 2840, Chief Justice Alexander G. Gesmundo is the chairperson while Associate Justice Alfredo Benjamin B. Caguioa is the working chairperson of the SC's First Division with Associate Justices Amy C. Lazaro-Javier, Mario V. Lopez, and Jhosep Y. Lopez as members.
Meanwhile, Senior Associate Justices Estela M. Perlas-Bernabe is the Second Division's chairperson with Associate Justices Ramon Paul Hernando, Henri Jean Paul Inting, Samuel H. Gaerlan, and Dimaampao as members.
Senior Associate Justice Marvic Mario Victor F. Leonen will chair the Third Division with Associate Justice Rosmari D. Carandang, Rodil V. Zalameda, and Ricardo R. Rosario as members.
Dimaampao, the tribunal's 191st Associate Justice, was also designated as an additional member of the Third Division.
Dimaampao has been a Court of Appeals justice for 17 years before his appointment to the SC.
He is only the second Muslim magistrate of the High Court, after the late former President Corazon Aquino appointed Abdulwahid Bidin to the high tribunal in 1987. (PNA)