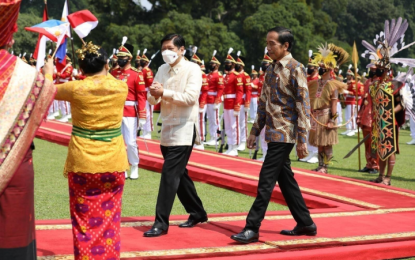 MANILA – President Ferdinand "Bongbong" Marcos Jr. had a "very productive" Day 2 of his state visit in Indonesia, a Palace official said Monday.
In a press briefing at the Harris Suites in Jakarta, Press Secretary Trixie-Cruz Angeles said the President accomplished so much in an entire day.
"It was very productive, extremely so because the President did not expect that the talks between him and [Indonesian] President [Joko] Widodo would progress so rapidly in such a short time," Cruz-Angeles said.
Just before noontime, Marcos together with the Philippine delegation, met with his Indonesian counterpart and other Indonesian officials in a bilateral meeting at the Bogor Presidential Palace in West Java.
It was during the meeting where the two governments signed four pacts on defense cooperation, cultural cooperation, creative economy, and a plan of action for bilateral cooperation.
In a post on his official Facebook page, Marcos expressed confidence that the four agreements signed between the Philippines and Indonesia will benefit not just the two countries but the entire Association of Southeast Asian Nations (Asean) region.
"We are confident that the agreements signed between our countries will help build a peaceful and more united Asean region," Marcos said.
Marcos also paid his respects before the Heroes Monument in a wreath-laying ceremony at the Kalibata National Heroes Memorial Park in Jakarta.
He was joined by First Lady Liza Araneta-Marcos during the solemn ceremonial event.
Built in 1953, the Kalibata National Heroes Memorial Park is the final resting place of Indonesia's national figures which include the country's founding fathers, freedom fighters, revolutionary leaders, high government officials, ranking military officers, national artists, and scientists.
The Heroes Monument is situated just about 200 meters from the cemetery.
Marcos also had a roundtable discussion with business leaders in Indonesia in Fairmont Hotel, Jakarta.
Cruz-Angeles said the President was happy over the interest that they showed in the Philippine economy.
"This is part of his vision for economic recovery and he also happily reported to them the general outcome of his agreements or his talks with President Widodo," she added.
Marcos is currently in Indonesia for a three-day state visit from Sept. 4 to 6.