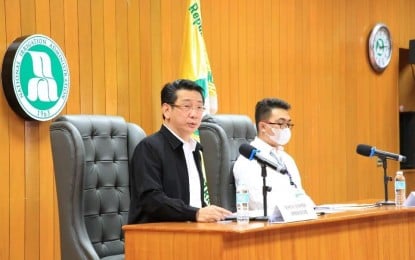 MANILA – President Ferdinand Marcos Jr. on Tuesday assured the public that operations at the National Irrigation Administration (NIA) would not be disrupted despite the suspension of its chief, Benny Antiporda.
"There are enough people there in the NIA who know what to do. At (And), in fact, I'm meeting them after this. So, make sure that 'yung function ng NIA ay tuloy-tuloy (the function of NIA will continue without interruption)," he told reporters following his attendance at the 49th founding anniversary of the Career Executive Service Board in Pasay City.
Marcos, however, said he would still like to get to the bottom of Antiporda's case.
"We have to find out what happened to Benny and see what really is the situation there, why Ombudsman Martires suspended him," said Marcos who heads the Department of Agriculture.
"It happened all when I was away. So I have asked them to give me the background on what happened. Yeah. But the function of the NIA is not going to change," he added.
Last week, the Office of the Ombudsman ordered a six-month preventive suspension without pay of Antiporda for grave misconduct, among other charges, following a lengthy complaint filed by NIA employees.
His suspension came as Marcos was scheduled to leave for the Asia-Pacific Economic Cooperation (APEC) Summit in Bangkok, Thailand.
In an order signed by Ombudsman Samuel Martires on Nov. 11, Antiporda was ordered suspended "in order to secure the documents and to prevent possible harassment of witnesses."
Several officers and members of the NIA Employees Association of the Philippines (NIAEASP) filed a complaint against Antiporda for allegedly humiliating and berating employees; placing some employees on the floating status and threatening not to renew employees' contracts if they do not agree with his policies among others.
Antiporda earlier said the charges leveled against him were "malicious, misleading" and meant to also humiliate the President.
He said the complaints filed against him were "exaggerated", citing how the complainants have even received promotions.
Antiporda also said he has offered to resign from his position, adding that he was not "kapit-tuko" or bent on holding to his position.
Same team
Meanwhile, Marcos also dismissed rumors that there would be changes in his economic team following reports that Albay Rep. Joey Salceda would be appointed Secretary of Finance to replace the incumbent Benjamin Diokno.
"Fake news. I don't know where it comes from. Why would I do that? We have assembled a great team. At saka (And) we're trying to go down a certain direction. It's a very, very poor time to, as they say, change horses in midstream," he said.
Salceda has also denied reports that he would replace Diokno, adding there was neither an offer for the position or an interest from his part.
Salceda served as the economic adviser of former President and now Senior House Deputy Speaker Gloria Arroyo and House Ways and Means panel chairperson during the administration of former President Rodrigo Duterte, a post he retained under the Marcos administration. (PNA)