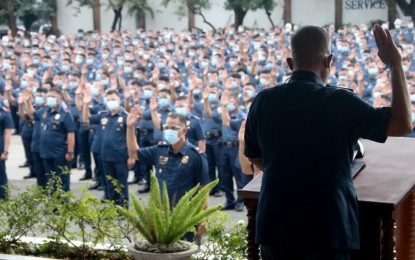 MANILA – An additional 191 police officers have recovered from the coronavirus disease 2019 (Covid-19).
In an update Tuesday, Philippine National Police (PNP) deputy chief for administration Lt. Gen. Guillermo Eleazar said this latest figure raised the police force's total recovery tally to 13,576.
As of Monday night, the PNP also reported an additional 173 Covid-19 cases, 167 of whom are new while the remaining six are classified as reinfections.
The police force has so far recorded 16,230 Covid-19 cases with 2,614 active cases. The death toll stands at 40.
The number of active PNP personnel vaccinated against Covid-19 has reached 4,375 as of April 5.
The figure includes 2,853 personnel who were inoculated with Sinovac vaccines and 1,522 with AstraZeneca.
Out of those who were inoculated with Sinovac jabs, around 912 police officers were injected with their second dose.
Meanwhile, the Armed Forces of the Philippines (AFP) on Tuesday said the number of its vaccinated personnel with Sinovac as of April 3 was placed at 36,163.
Of this figure, 31,217 already got their first dose of the Covid-19 vaccines while another 4,946 got their second dose.
A total of 63,000 vials were delivered to AFP units nationwide since the military started its inoculation program last March 1.
Meanwhile, those inoculated with AstraZeneca jabs as of April 3 were placed at 1,330 -- 568 essential personnel and 762 health care workers. (with Priam Nepomuceno/PNA)