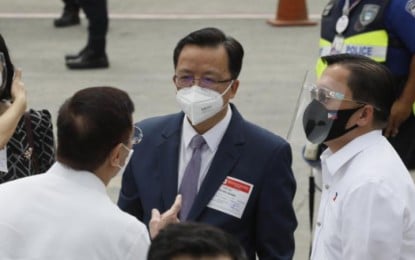 MANILA – The Chinese government turned over on Thursday 2,000 metric tons of rice donations to the Philippine government.
Chinese Ambassador Huang Xilian said this brings to 6,150 MT Beijing's total rice donation to the country, which is seen to benefit nearly 500,000 Filipino households.
The envoy said another batch of 3,850 MT of rice donation would be shipped before the year ends.
"We hope the rice will be distributed to those in need in the fastest way so as to help them get through this trying time," he said in a statement.
The rice aid was handed over to Social Welfare and Development Secretary Rolando Bautista in a virtual ceremony.
The donation is part of Chinese President Xi Jinping's commitment to President Rodrigo Duterte to provide about 10,000 metric tons of rice to the country.
Aside from rice, Beijing had previously announced the shipment of one million more doses of coronavirus jabs to help the country further boost its vaccination program. (PNA)