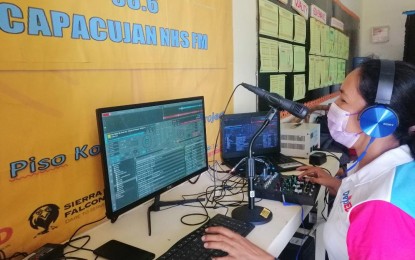 TACLOBAN CITY – About 800 learners from remote villages in Palapag, Northern Samar stand to benefit from the Radio Based Instruction (RBI) project funded through donations raised by a non-government organization.
Capacujan National High School (NHS) with enrollees in remote communities is the first beneficiary of the educational radio programs that can be heard through the FM band.
On Aug. 31, the campus received transmitters, antenna, and broadcast equipment managed through a laptop or desktop computer.
With the ongoing battle against coronavirus disease 2019 (Covid-19), RBI is being used by the education department as one of the viable platforms while regular face-to-face classes are still suspended, said Jerico Joshua Kahulugan, national director of Humanitarian Order of Sierra Falconès, Inc., in a phone interview on Thursday.
The initiative, pushed by non-profit groups Sierra Falconès and Save to Send Project, is supported by the Department of Education Northern Samar division.
Sierra Falconès managed to raise PHP44,794 donations for the purchase of equipment under its Piso Ko, Transistor Mo Project.
Through RBI, teachers guide and assist the students through radio while reading and studying their printed modules, allowing them to understand their lesson easily.
"Covid-19 pandemic has affected the lifestyle of our learners and it continuous to make these children suffer from its adverse effect which is why we partnered with DepEd in Northern Samar to help young learners cope in these trying times," Kahulugan said.
He added that the project RBI will be adopted by other chapters of Sierra Falconès in different areas in the country to expand the new mode of instruction.
Cherry Nobis, a teacher in Capacujan and Sierra Falconès chapter president in Northern Samar, said this alternative mode of learning and teaching is helpful to students as they pursue studies despite challenges brought by the pandemic.
Capacujan has 26 teachers trained to operate RBI. The campus has 800 students from different remote villages.
The school is accessible to teachers by riding a single motorcycle from the town center, riding along rocky and muddy road while some students from nearby villages have to walk for about an hour to get to the campus.
Due to their location, it is hard for students to contact their teachers if they have clarifications on their activity sheets and modules.
"To have a good signal, they have to climb a hill when sending a message. That is why I really work hard for us to have this radio station," Nobis said in a phone interview.
The radio station is in operation from Monday to Friday from 7 a.m. to 5 p.m.
"Right now, we are still doing test broadcast in preparation for the actual operation once the class for this school year begin this month," she added.
Aside from Capacujan NHS, the Piso Ko, Transistor Mo Project is also implemented in Las Navas I Central in Las Navas, a remote town in Northern Samar province. (PNA)