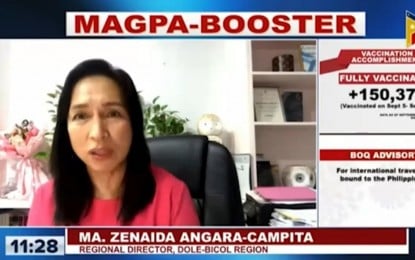 MANILA – Employment figures in the Bicol Region have improved as the country's economic reopening continues amid the coronavirus pandemic, a regional labor official said on Friday.
Maria Zenaida Angara-Campita, Department of Labor and Employment (DOLE) V director, said the region's employment figure has increased to 2.3 million as of July this year, from only 2.1 million in the same period last year.
"From the labor force participation, it means that our workers who are actually in the formal wage salaried sector reached 2.3 million. The total employment from 2.1 million in 2021, now in 2022, it's now 2.3 million, so our workers who have jobs have increased by more than 200,000," she added.
Angara-Campita added that the region's unemployment figure also decreased to 131,000 from 201,000. She, however, did not give figures on underemployed persons.
She also said sectors that have available jobs include agriculture and agribusiness, health and wellness, hotel and tourism, and also in wholesale and retail.
"There is also the construction sector, which is part of the program of our government and the continuous improvement of our roads here in Bicol, that can involve many workers. We also consider the IT-BPO which is one of the providers of employment for our workers," the DOLE official added.
She said DOLE also provides employment and livelihood assistance to workers who are affected by calamities through the Tulong Panghanapbuhay sa ating Disadvantaged and Displaced Workers Program (TUPAD).
"Our livelihood program that we provide to the marginalized and most vulnerable sectors and provide them with economic assistance. In addition to this, during calamities or there are emergency situations, that is our TUPAD that provides temporary employment for ten days or more up to 30 days and they are given the opportunity to work and have an immediate salary," she said. (PNA)