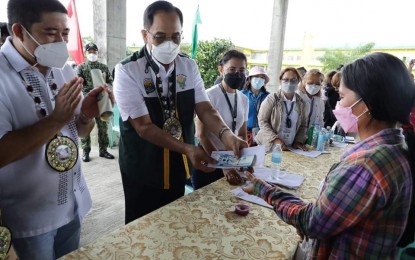 ABUYOG, Leyte –The Department of Agriculture (DA) on Tuesday declared this town free from African swine fever (ASF), after the first case in the entire Visayas was detected in a barangay here last January.
Agriculture Secretary William Dar led the ASF-free declaration level 1 inside the campus of Abuyog Community College after no new ASF case has been reported in the past 211 days.
"The town have done their work. The local government has played a big role in ending the spread of animal disease with the forward looking strategy. We will have them start the repopulation," Dar said.
The last case in Abuyog was recorded on March 15, 2021.
For nearly three months since early January, at least 30 hogs tested positive for ASF while 5,049 pigs were culled to prevent the spread of the disease.
The outbreak has affected the livelihood of 1,113 farmers in 41 villages with 39 areas classified as ASF ground zero.
The Department of Agriculture has paid PHP16. 92 million indemnity fund to affected farmers. Some PHP8.32 million has been requested for disbursement.
With the declaration, Abuyog town is now categorized as ASF "pink zone" from "red zone."
As per ASF color-coding scheme, "pink" zones serve as buffer, where ASF is not present but adjacent to an infected zone.
It may also be an area previously infected but the ASF virus has not been detected for at least 90 days, recovering from infected status.
Among the activities that contributed to the upgrading of the town's status is the establishment of the village-based watch against ASF, deployment of village biosecurity officers, massive cleaning and disinfection, active surveillance, and detection of the presence of ASF virus remnants.
"When the first ASF case was detected, key officials from DA regional office stayed in our town for a week to assist us in our fight against the animal disease. I am very grateful to DA," said Abuyog town Mayor Lemuel Gin Traya.
The first ASF case was detected on Jan. 14, 2021 in Can-aporong village in Abuyog town. The disease has spread to 49 cities and towns in Eastern Visayas as of August. (PNA)