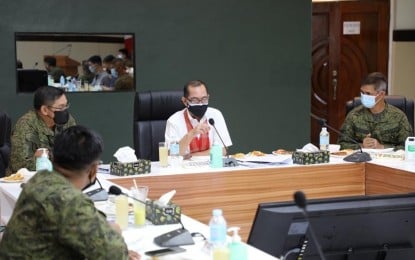 MANILA – Task Force Balik-Loob (TFBL) chairperson, Defense Undersecretary Reynaldo Mapagu, has directed the Philippine National Police (PNP) to continue "demilitarizing" or destroying firearms surrendered by former members of the Communist Party of the Philippines - New People's Army (CPP-NPA) as they return to mainstream society.
Mapagu issued the reminder to the members and stakeholders of the TFBL during a meeting at Camp General Macario Peralta Jr. in Jamindan, Capiz on Tuesday.
The meeting was hosted by 3rd Infantry Division commander, Lt. Gen. Eric Vinoya.
Demilitarization is the process of destroying firearms to make them unusable by cutting them into several pieces or bending or deforming each firearm.
Under the safekeeping of the PNP, some of the firearms are to be used in courts as evidence in ongoing trials of crimes committed by the former rebels (FRs) while the rest are to be demilitarized or destroyed.
Mapagu said demilitarization would ensure that the firearms surrendered by former rebels, for which the government has remunerated them, would not fall into the wrong hands and be used in illegal activities.
He added that only those firearms "which are going to be used as evidence in court proceedings are to be kept; all the rest need to be demilitarized."
He also said when the cases are settled, even those used as evidence in court "must be destroyed as well."
Mapagu congratulated all the task force members and stakeholders for their hard work and deep commitment to making a change in the lives of FRs.
He particularly commended the local chief executives for leading the activities and projects for the FRs, saying that without their valuable support and initiatives, the TFBL and its umbrella program, the Enhanced Comprehensive Local Integration Program (E-CLIP), would not have been as successful as it is at present.
As of July 30, the TFBL, through the lead and partner agencies, has granted almost PHP490 million in assistance in the form of cash, livelihood, training, and housing benefits to 6,418 FRs.
Established in April 2018 under Administrative Order 10, the TFBL serves as a central coordinating body to supervise the government's reintegration efforts for FRs and their immediate family members.
It is composed of representatives of the Department of National Defense, Department of the Interior and Local Government, Office of the Presidential Adviser on the Peace Process, Office of the President, and the National Housing Authority, as well as other partner government agencies.
The task force helps FRs and former violent extremists (FVEs) restart their lives, enabling them to be reintegrated into mainstream society and reuniting with their families and relatives.
The CPP-NPA is listed as a terrorist organization by the United States, the European Union, the United Kingdom, Australia, Canada, New Zealand, and the Philippines. (PNA)