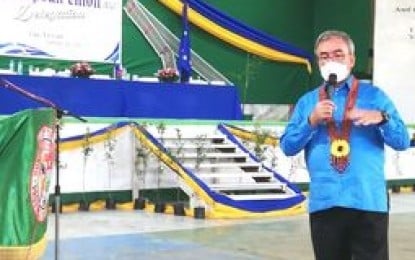 ITOGON, Benguet – The European Union (EU) sees possibilities for collaboration projects related to climate change and waste management in small towns in the Philippines, including the Cordillera region, in the next seven years.
EU Ambassador to the Philippines Luc Veron, in a media interview on Friday, said they are into projects, "particularly around circular economy in the management of waste, which is very important."
The United Nations defines a circular economy as a model in which products and materials are designed in such a way that they can be reused, remanufactured, recycled, or recovered and thus maintained in the economy for as long as possible.
Veron said their focus in the next seven years of cooperation with the Philippines is on limiting the use of plastic materials.
Christoph Wagner, head of the development section of the EU Delegation, noted that "circular economy is a bigger concept that reduces wastes, producing materials and changes the way how the economy works."
The EU's idea is to go to low-class municipalities for cooperation.
"We are looking for programs on certain aspects related to waste, on the side of climate change, rule of law, and peacebuilding," Wagner said.
The EU mission, he said, has ongoing projects in the Cordillera where they work with indigenous people communities for the protection of rights and programs with young people.
Veron said whenever they go around the country, they make it a point to meet with local officials so they could see and learn what is on the field.
"We do have some experience and we can share our experience and we can also learn from the experience of the municipalities in the Philippines," he said.
The EU delegation visited Itogon, Benguet on Friday to turn over disaster risk reduction equipment for nine villages under the PHP22-million EMPOWER project. (PNA)