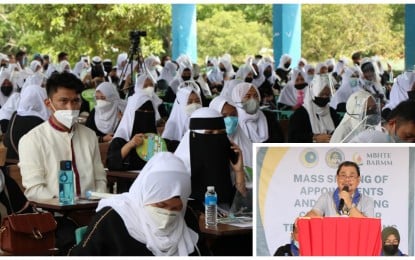 KIDAPAWAN CITY – The education minister of the Bangsamoro Autonomous Region in Muslim Mindanao (BARMM) on Tuesday challenged newly hired teachers for Lanao del Sur to promote moral governance in educating students.
Minister Mohagher Iqbal of the Ministry of Basic, Higher and Technical Education (MBHTE) issued the challenge to 203 recipients of teaching plantilla items for the schools' divisions of Lanao del Sur I and II.
The 203 newly hired teachers signed their appointments and took their oath before Iqbal during ceremonies held at the Parang National High School in Parang, Maguindanao.
Of the number, 81 elementary, 37 secondary, and six Alternative Learning System (ALS) teachers were assigned to the Schools Division of Lanao del Sur I, while 46 elementary, 27 secondary, and also six ALS teachers were assigned in Lanao del Sur II.
"I presume it is one of the best times in your lives," Iqbal told the newly hired educators.
"What you got today did not come on a silver platter, it was the product of dedication, perseverance, and blood," he added.
He then shared that the hiring procedure was not easy.
Among the 4,229 applicants, only 203 or 4.5 percent were hired because of the limited items available.
He assured those who did not make the cut that they can have another go next time.
Iqbal expressed hope that that the new teachers would help the MBHTE-BARMM carry its mandate of providing inclusive and relevant education on the premise that "no Bangsamoro learner shall be left behind."
He reminded them to instill the principle of moral governance in their teaching.
The core components of moral governance include transparency, integrity, fairness, involvement, accountability, responsiveness, and the absence of corruption, among others.
Iqbal said he has always believed that the MBHTE-BARMM is not just hiring for the sake of filling up positions. Instead, they want a dedicated workforce that will provide extra backing like imparting technical knowledge and skills to the whole Bangsamoro community. (PNA)