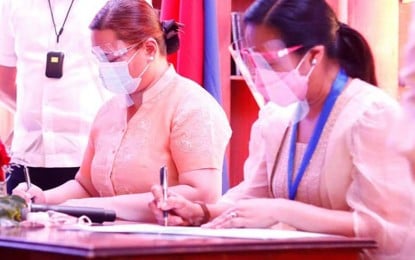 ZAMBOANGA CITY – Officials of this city and Davao City are looking forward to a stronger collaboration that will be mutually beneficial to the two cities.
This, as Mayor Maria Isabelle Climaco-Salazar and Davao City Mayor Sara Duterte signed on Thursday a sisterhood agreement for the two cities in a ceremony at the lobby of the City Hall.
The pact aims to create and fortify an open communicative atmosphere to induce a heightened exchange of ideas, particularly in the fields of tourism and culture, agriculture, and trade and commerce.
"Individually, our two cities are strong, but we are stronger when we are together," Duterte said.
Duterte also recognized the need to establish linkage and build better connections with other cities, especially in Mindanao, where both cities share the same issues and challenges.
"When we commit to working together and learn from one another, we can better serve our respective constituents and in turn, help contribute to the growth of Mindanao," Duterte said.
Salazar, meanwhile, said Davao City has been always ready to help and assist this city, even before the sisterhood pact was formalized.
Salazar lauded Duterte for the assistance given to this city even before the signing of the sisterhood pact.
She said this includes newborn screening equipment, the donation of two reverse transcription-polymerase chain reaction (RT-PCR) machines, and the training given to the medical technologists of this city on antigen testing as the city prepares to open its own molecular laboratory.
The event sealed the pledge signed by then Davao City Mayor and now President Rodrigo Duterte and Salazar on April 15, 2015, when Salazar and other city government officials visited Davao City.
"The continued partnership from the father to the daughter is palpable," Salazar said.
House Speaker Lord Allan Velasco, Davao Oriental Governor Claude Bautista, Zamboanga City Vice Mayor Rommel Agan, and other officials of the two cities witnessed the signing of the sisterhood pact.
Meanwhile, Duterte also visited the survivors of the July 4 C-130 plane crash who are currently confined in different local hospitals after the ceremony. (PNA)