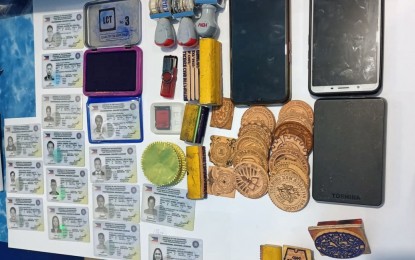 BACOLOD CITY – The Bacolod City Police Office (BCPO) filed charges on Friday against three individuals allegedly responsible for the proliferation of counterfeit driver's licenses in this city and other parts of Negros Occidental.
In a complaint lodged before the City Prosecutor's Office, the suspects were identified as Lorebelle Umbao, 43; Jefferson Panisa, 33, of Purok Paghidaet and Purok Kahirup-A in Barangay Mansilingan; and Marlon Pandongan, 48, of Purok Paho South in Bago City, Negros Occidental.
Based on the affidavit of complainant Ronnie Miravalles, 44, of East Homes 4 Subdivision also in Barangay Mansilingan, the three were charged with violation of Section 11 (b) of the Anti-Red Tape Act of 2007 for fixing activities, and Article 172 of the Revised Penal Code for falsification by private individuals of public documents.
On Thursday noon, operatives of Bacolod City Police Mobile Force Company, together with personnel of the Land Transportation Office, arrested live-in partners Umbao and Pandongan during an entrapment operation through a poseur-buyer at the Central Market on Bonifacio Street here.
Several fake driver's licenses were seized from the couple, who led the authorities to Pandongan, the alleged manufacturer, in neighboring Bago City, where he was also arrested.
Pandongan yielded a computer set with a printer and other equipment believed to be used in the production of fake driver's licenses. (PNA)