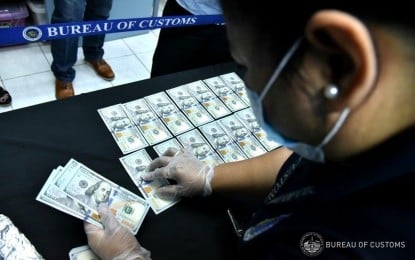 MANILA – The Bureau of Customs (BOC) has seized local and foreign currencies and other monetary instruments amounting to more than PHP33 million since 2020.
In a statement Saturday, the bureau said based on the report issued by its Intelligence Group - Customs Intelligence and Investigation Service (IG-CIIS), as of July 14, it has successfully prevented attempts of currency smuggling amounting to PHP33,128,870.
The items were stored in baggage brought by passengers or sent before or after their arrival while for parcel shipments, the items were described and misdeclared as personal documents, correspondence, magazines, and books.
The BOC added that the seized currencies originated from Asian countries, such as Malaysia, Singapore, and Japan, and the United States, particularly from the states of North Carolina, New Jersey, Tennessee, Colorado, and California.
At the same time, the bureau reminded the public and travelers of the existing Cross-Border Transfer of Local and Foreign Currencies Guidelines under the Bangko Sentral ng Pilipinas (BSP) Manual of Foreign Exchange Transaction.
It said the traveler, importer or exporter simply needs to secure written authorization from the BSP for local currency exceeding PHP50,000.
As for foreign currencies and other monetary instruments exceeding USD10,000 or the equivalent in other currencies, the person shall declare the amount in the prescribed Customs Baggage Declaration Form and Foreign Currency Declaration Form.
The seized currencies were subjected to seizure and forfeiture proceedings in violation of Sections 1400 (Misdeclaration) and 1113 of Republic Act (RA) 10863 or the Customs Modernization and Tariff Act in relation to RA 7653 (New Central Bank Act) and the BSP Foreign Exchange Transaction Manual. (PNA)