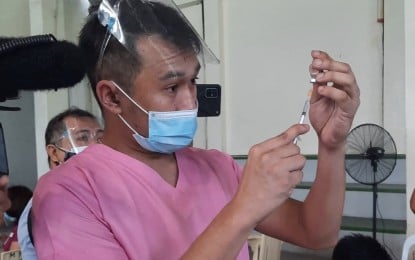 CEBU CITY – The Central Visayas region has administered a total of 3.2 million doses of coronavirus disease 2019 (Covid-19) vaccine seven months since the start of the national vaccination rollout in March, a Department of Health (DOH)-Region 7 official said on Tuesday.
Dr. Mary Jean Loreche, DOH-7 chief pathologist, said the actual number of vaccine doses given to eligible population in the region was pegged at 3,270,115.
Of the number, 1,716,049 were given as the first dose while 1,554,066 for the second dose, she added.
About 73 percent of the total number of Covid-19 vaccine doses administered or 2,381,752 were given to the residents of the province of Cebu while the rest were distributed to the neighboring provinces of Bohol, Negros Oriental, and Siquijor.
Loreche also reported that in seven months of inoculating residents in the four provinces in the region, the Regional Adverse Events Following Immunization Committee recorded only 0.1 percent or 4,518 of the 3.2 million vaccinees reported adverse events.
She also commended the medical front-liners for achieving a 100 percent vaccination rate as of October 12.
"This means that all 131,989 medical front-liners in Region 7 are already fully vaccinated," she told the Philippine News Agency (PNA).
She also said that 38 percent of 595,649 senior citizens eligible for vaccination are already registered as fully vaccinated.
At least 364,999 of the 632,799 persons who are master-listed under A3 category or persons with comorbidities have already been fully vaccinated.
As of October 25, a total of 555,858 or 53 percent of 1,101,802 economic front-liners are fully vaccinated while a total of 46,762 individuals registered under "priority ROAP" or the rest of adult population are also considered fully vaccinated.
The national government has delivered a total of 5.2 million doses of Covid-19 vaccines to Central Visayas and distributed to 284 vaccination sites in the provinces of Cebu, Bohol, Negros Oriental, and Siquijor. (PNA)