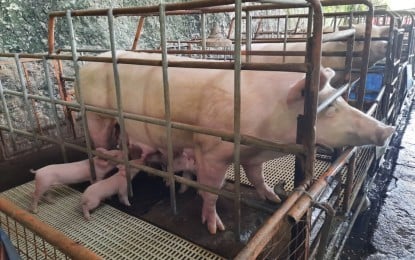 CEBU CITY – The Department of Agriculture (DA) has committed to build swine multiplier farms in the province of Cebu, citing the island's "green zone" status which indicates that it remains free from the African swine fever (ASF) virus.
Agriculture Undersecretary for Livestock William Medrano vowed to support the provincial government's Enhanced Countryside Development program through swine breeder farms for hog production and fattening under the DA's National Livestock Program, which also covers backyard raisers.
The DA can provide support like fencing, housing, feeds, veterinary drugs, and biologics, as well as equipment, he said.
Medrano lauded the provincial government's efforts that have sustained Cebu's ASF-free status.
"Nasa 'green zone' pa kayo (You are still in the green zone). Being a green zone, we really encourage all investors, our swine farmers, our swine raisers, to enhance yung kanilang (their) production level para mas mataas yung supply ng baboy galing sa Cebu (in order to increase the swine supply from Cebu)," Mendrano was quoted as saying in a statement released by the Provincial Information Office on Monday.
He said through the DA's National Livestock Program, the agency will help Cebu establish swine multiplier and breeder farms to support small swine farmers.
"Yung ating (Our) project will be a sustainable source of stocks para sa ating mga (for our) backyard raiser," Medrano added.
Breeding farms are part of the DA's national program for the livestock sector. The offspring of livestock serves as the source of good quality breeding stocks to qualified livestock farmers.
"Isang component ng National Livestock Program ang pag-establish natin ng swine multiplier-breeder farms all over the country (One component of the National Livestock Program is the establishment of swine multiplier-breeder farms all over the country). We would like to extend that kind of project dito sa (here in) Cebu," Medrano further said.
Last July 15, the DA official visited the Capitol, where he received a basketful of Cebu-made products from Governor Gwendolyn Garcia. He was accompanied by lawyer Salvador Diputado, DA Central Visayas director.
Earlier, Garcia noted that Cebu province was already allowing the export of live hogs to other provinces on a case-to-case basis based on the application of breeder farms, depending on the number of excess live hogs. (PNA)