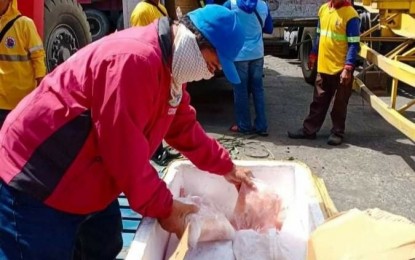 BACOLOD CITY – The Negros Occidental provincial government has seized more pork and its by-products in the past week as it continues to enforce measures against African swine fever (ASF).
Dr. Renante Decena, provincial veterinarian, said in a statement on Tuesday that personnel of the Provincial ASF Task Force confiscated some PHP15,822 worth of items from August 6 to 12.
"These were seized from hand-carry and check-in baggage that arrived at Bacolod-Silay Airport and also through monitoring activities in public markets in the cities of Sipalay and Bacolod," he added.
Negros Occidental still prohibits the entry of live pigs, pork, and pork products coming from Luzon, Mindanao, and Eastern Samar, which all have confirmed cases of the swine disease.
A consolidated apprehension report showed that from January 1 to August 12 this year, the task force recovered a total of 907.73 kilograms of assorted pork products worth almost half a million pesos through checkpoints in ports, airport, and local government units.
From August 6 to 12, the quarantine team has inspected 1,591 incoming vehicles and refrigerated containers vans in different ports of entry.
"All products allowed to enter the province were properly inspected and found to have complete documents," Decena said.
Last July 26, Negros Occidental marked the second year of the creation of the Provincial ASF Task Force, and Governor Eugenio Jose Lacson commended the efforts of stakeholders for sustaining the province's ASF-free status to protect its PHP6-billion swine industry.
Lacson said actions that contributed substantially to the province's success included prompt and timely enactment of the ASF Prevention Ordinance and the creation of the ASF Task Force to take the lead in the prevention and control measures.
The Department of Agriculture has tagged Negros Occidental as a "green zone" or an ASF-free province, making it one of the most trusted and major suppliers of pigs for slaughter in Luzon and other parts of the country. (PNA)