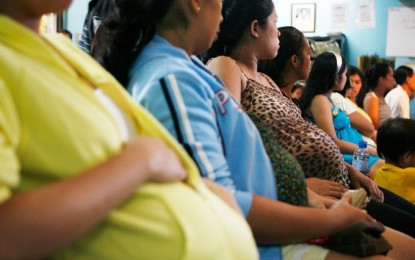 MANILA – The Department of Health (DOH), Commission on Population and Development (PopCom), and National Youth Commission (NYC) continue to strengthen efforts concerning pregnancies, sexually transmitted infections, and mental health problems among Filipino youth.
The NYC, as the agency mandated to protect the welfare of the youth, cannot just monitor the glaring statistics, NYC chair Ryan Enriquez said online during Thursday's "Linggo ng Kabataan (Week of the Youth)" culmination.
"We would rather support the implementation of relevant plans to curb the rising percentage of teenage mothers, and to promote activities that would encourage the youth to think twice before engaging in risky sexual behaviors," he said.
The celebration tackled the current status of the Filipino youth, including the registered birth rate among the 15 to 19 age group.
The adolescent birth rate of 47 per 1,000 live births in the country remains high, as it exceeds the Asia Pacific average of 33.5 and the global average of 44, according to the United Nations Population Fund.
POPCOM Chief Juan Antonio Perez III said almost 500 Filipino youths gave birth daily in 2019.
"These include about 40 of those 10 to 14 years old every week. On average, there are around 64,000 minors or those who are below 18 years old, who give birth annually," he said.
The data prompted President Rodrigo Duterte to sign Executive Order No. 141 declaring as an urgent national priority the measures that address the root causes of adolescent pregnancies, and calling for a whole-of-government approach.
As a show of its support, the NYC approved a resolution creating a Strategic Nationwide Plan to address teenage pregnancy in the country as a National Social Emergency.
The proposal is envisioned to augment the strategies of the Philippine Youth Development Plan 2017-2022, specifically on the thrusts of the identified Health Center of Youth Participation that ensures the practices of healthy lifestyle, as well as responsible sexual and reproductive health.
HIV cases among youth
As of January this year, 25 percent of HIV (human immunodeficiency virus) cases reported were among those aged 15 to 20.
PopCom said there was "condom lag" in the same age bracket, as reported in the HIV Strategic Plan of 2020.
The country's HIV reactivity rate, or a reconfirmation of HIV infection tests, continues to increase within the young key populations, making the youth vulnerable to other forms of STIs as well.
Meanwhile, as of 2020, there are 3.6 million young Filipinos who suffer from mental, neurological, and substance abuse disorders.
"As a lead government agency championing Adolescent Sexual and Reproductive Health, together with the DOH and NYC, PopCom shall ensure that our youth will figure prominently in our programs and policies, knowing very well that the future of our country rests on the quality of young citizens we will raise," Perez said.
Enriquez said they provide young people with a support system through webinars with peer-to-peer coaches.
"The webinars also serve as means for NYC to celebrate diversity and the uniqueness of each young person who learns the value of mental health and well-being," he said. (PNA)