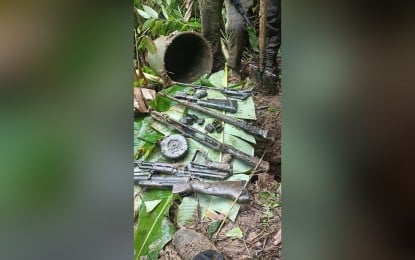 TACLOBAN CITY – The Philippine Army has lauded former supporters of the New People's Army (NPA) in Leyte province who tipped off about the location of the rebels' arms cache in the municipality of Mahaplag last week.
Lt. Col. Ernesto Dela Rosa, commander of the Army's 14th Infantry Battalion said they were able to discover high-powered firearms in Barangay Maligaya, Mahaplag, on Thursday.
The arms cache consists of one AK47 assault rifle, an M16 Armalite rifle, an M1 Garand rifle, a 40mm M79 grenade launcher and assorted magazines. These reportedly belong to the NPA Platoon 1, sub-regional command, Eastern Visayas Regional Party Committee.
"The NPA buried the firearms because of their inability to recruit and recover former mass bases to fill in their ranks," Dela Rosa said in a statement on Monday.
The official said the series of fruitful engagements with villagers and the delivery of basic services and development in the area have enlightened locals of the deceptive scheme of the NPA.
Soldiers have immersed their community support program (CSP) team in the upland village of Mahaplag and intensified government service through the implementation of the retooled CSP.
The military has called on the remaining NPA combatants still hiding in the mountains to surrender and return to their families.
Dela Rosa also urged the owners of these recovered firearms to surrender and avail of the benefits for former rebels under the Enhanced Comprehensive Local Integration Program of the government. (PNA)