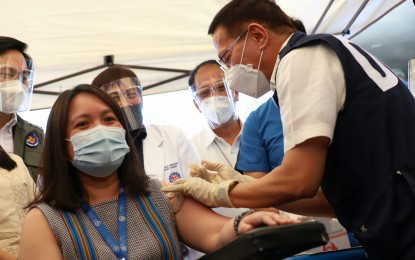 MANILA – The Department of Health (DOH) on Tuesday clarified that it supports the directive of President Rodrigo Duterte on prioritizing the National Capital Region and eight other areas for the Covid-19 vaccination program.
In a news release, the agency said the government is eyeing the NCR plus eight areas which have been determined to be the most populous and of highest density, thus putting these at the greatest risk for Covid-19 transmission.
Such risks have economic and social implications, which are inherently tied to health and nutrition outcomes, it said.
Contrary to reports saying the DOH rejected the prioritization of the NCR Plus, it clarified that Undersecretary Maria Rosario Vergeire's statement was in response to the recommendation to allocate 90 percent of vaccines to the NCR Plus.
The DOH said this is not only impractical, but is also inappropriate and inequitable since there is a continuous need to allocate to other regions especially to cover the remaining A1, A2, and A3 population groups who have not been vaccinated, consistent with the objective of reducing hospitalizations and deaths among high risk population groups.
Aside from this, allocation remains to be dependent on incoming supplies.
The NCR and eight other areas include Metro Manila, Metro Cebu, Metro Davao, Bulacan, Batangas, Cavite, Laguna, Pampanga, and Rizal. Based on the latest data, 67 percent of the vaccine supply is distributed to NCR, Regions 4A (Calabarzon), Central Luzon, Central Visayas and Davao Region.
The Philippines registered a daily average of 166,861 doses administered over a 7-day period last May 23, the highest since the start of the Covid-19 vaccination program.
During the same period, a total of 3.2 million Filipinos have already been vaccinated with their first dose of Covid-19 vaccine while around 960,000 have already received their second dose.
The DOH reminds the public to continue practicing the minimum public health standards even after getting fully vaccinated. (PR)