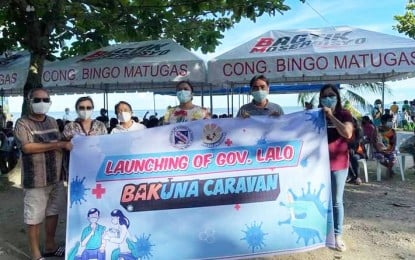 BUTUAN CITY – The provincial government of Surigao del Norte launched on Sunday a vaccination caravan on Siargao Island, one of the premier tourist destinations in the country.
Gov. Francisco Matugas said in a statement on Monday that the caravan aims to fast-track the vaccination of the different sectors on the island for protection against the dreaded coronavirus disease 2019 (Covid-19).
"The vaccination caravan will cover all the nine municipalities in the province that are situated in Siargao Island," Matugas said.
The towns include Burgos, Dapa, Del Carmen, General Luna, Pilar, San Benito, San Isidro, Santa Monica, and Socorro.
At the start of the vaccination caravan on Sunday, a total of 600 doses of Moderna vaccines were allocated for the residents in General Luna town, dubbed as the country's surfing capital.
"The provincial government targets to inoculate around 80 percent of Siargao residents by the end of this year," Matugas said.
Data from the Department of Health in Caraga indicated that as of October 18, a total of 100,189 individuals in Surigao del Norte are already considered fully vaccinated.
The number makes up 26.63 percent of the 376,176 individuals targeted for the Covid-19 vaccination program in the province this year.
A total of 135,037 individuals in the province, the data added, have already been inoculated with the first dose of Covid-19 vaccines.
"I call on our residents in Siargao and the rest of the province of Surigao del Norte to avail of the vaccination program of the government. This is for free. Let us protect ourselves from the risks of the Covid-19 virus," Matugas said. (PNA)