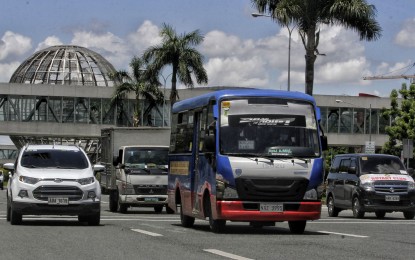 MANILA – The Land Transportation and Franchising Regulatory Board (LTFRB) on Wednesday clarified the Commission on Audit (COA) findings on the 1 percent utilization rate of funds allocated for its service contracting program covered only the month of December last year.
In a statement, the LTFRB said funds for the program were downloaded to the agency only in November last year and started disbursement in December.
"It is misleading to angle certain reports and columns that only 1 percent was used from the P5.56-B funds for the service contracting program, where in fact, the 1 percent utilization rate only covers the implementation month of December 2020, which is also the coverage/extent of the COA report that was released," the statement read.
The memorandum of agreement between the LTFRB and the Landbank of the Philippines was signed only in December 2020 which enabled the distribution of cash subsidies to eligible beneficiaries.
To ensure strict compliance, public utility vehicle drivers and operators were required to complete the orientation of the program and to submit required documents to secure a permit to operate.
"The LTFRB through its Technical Working Group and the Program Implementing Unit took reasonable efforts to address the lack of manpower and streamed down the process without compromising the integrity and reliability of data," the LTFRB said.
As of June 30 this year, about PHP1.5 billion has been released to drivers nationwide and for the procurement of a systems manager responsible for the development and management of all project systems.
Of this total, initial payouts of PHP4,000 have been given to 23,410 drivers; one-time onboarding incentives of PHP25,000 given to 8,461 drivers; one-time onboarding incentives of PHP20,000 given to 702 drivers; and weekly payouts for 18,864 drivers.
"To date, the LTFRB is in close coordination with the Department of Budget and Management for the release of funds amounting to PHP3.3 billion on the remaining account payables," the LTFRB said. (PNA)