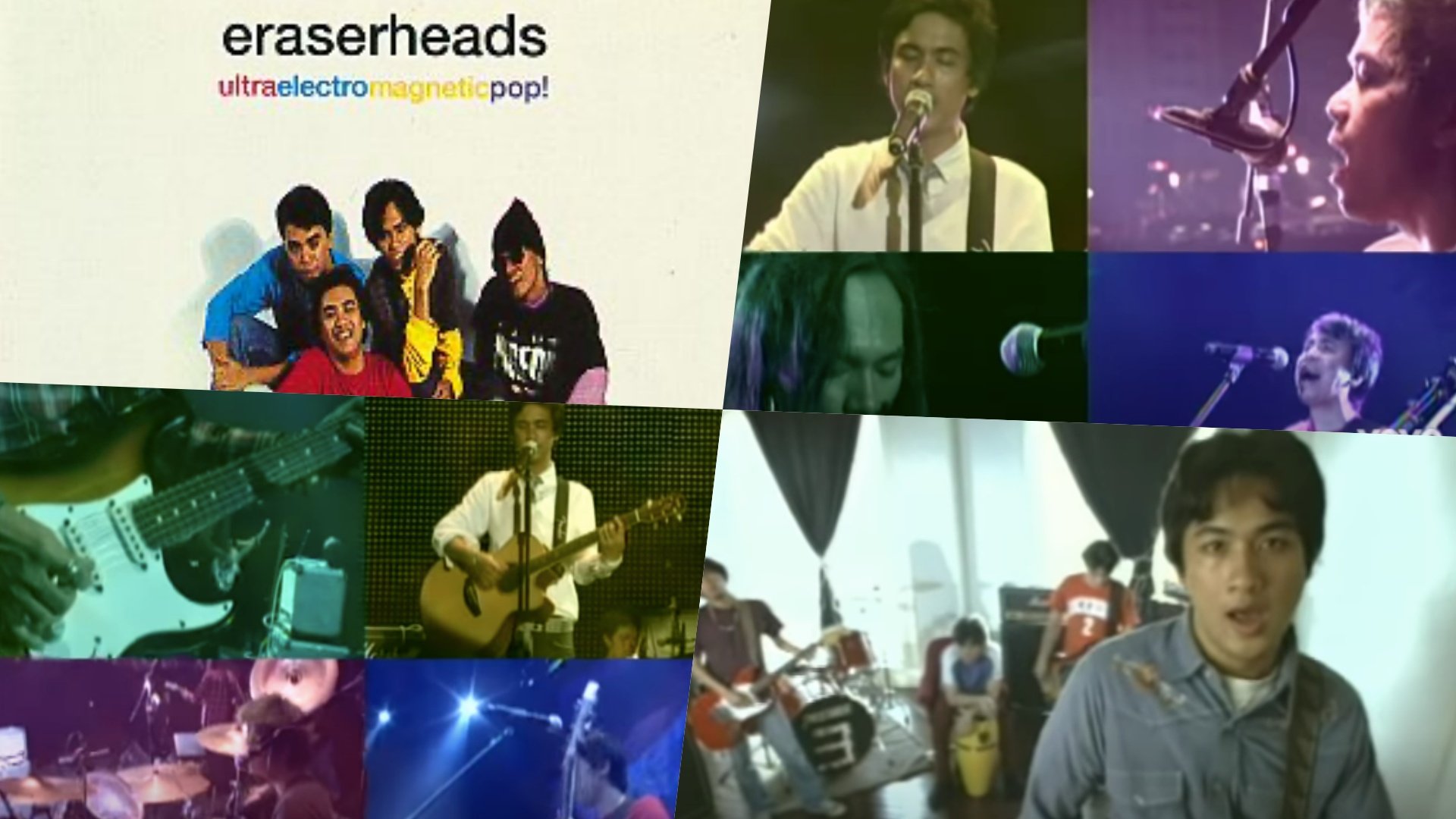 Photo credit: Eraserheads/Wikipedia/YouTube
The Eraserheads and Friends are back on the news headlines. Did we somehow travel back to the '90s? Why are the Eraserheads all over our timeline?
Well, an interview featuring Ely Buendia on the podcast Wake Up with Jim & Saab resurfaced online quoting the singer saying that he was never really friends with his Eraserheads bandmates.
In the podcast he explained, "When the E-heads broke up, I was kinda sick of fans saying, 'You're friends, you shouldn't have broken up! We feel bad about it. You made us feel bad.' And I was sick of that and I think everything points to that song ["Minsan"]."
He continued, "But what fans did not know is that, what the public did not know is—I don't wanna break hearts again—we were never close. We were never friends. As in tight friends. That's why we broke up."
Some of the fans took the news very personally as shown in the posts below.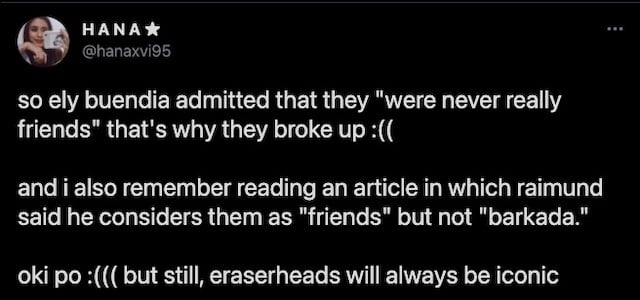 Photo credit: hanaxvi95/Twitter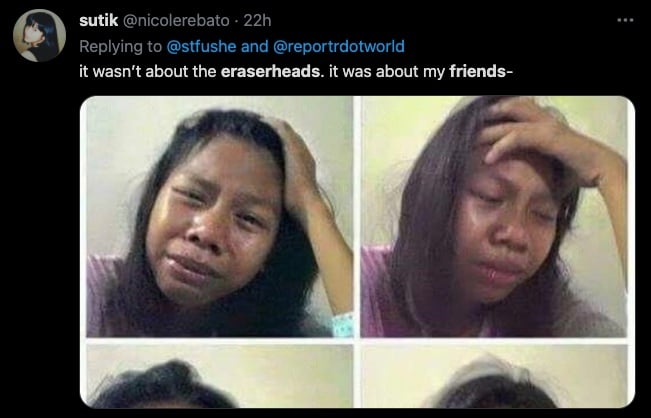 Photo credit: nicolerebato/Twitter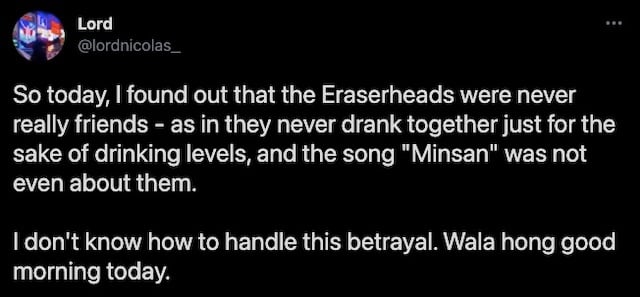 Photo credit: lordnicolas_/Twitter
E-heads fans were shookt since most assumed that the friendship-themed "Minsan," was all about the band.
Buendia further clarified this in the same podcast and said, "That song is actually about my actual friends. The friends that were with me during my stay at Kalayaan."
Perhaps the revelation hit differently for some band stans since the news dropped on the same day that another '90s pop culture icon, Friends, aired their reunion show.

Photo credit: preiodt_ish/Twitter
READ: Pop quizzes, the Holiday Armadillo, and more at the Friends reunion
Okay, it sounds like a stretch but hear us out!
The Friends cast are very close in real life—as in they hang out for reasons outside of work and have even starred in each other's shows for fun. So some online users felt an extreme mood whiplash upon learning about this Eheads issue. In contrast, the band has never gone drinking for wala lang.
And you know what? That is totally fine and shouldn't diminish their legacy as a band. The Eraserheads rocked hard regardless of whether they were touting friendship bracelets or not.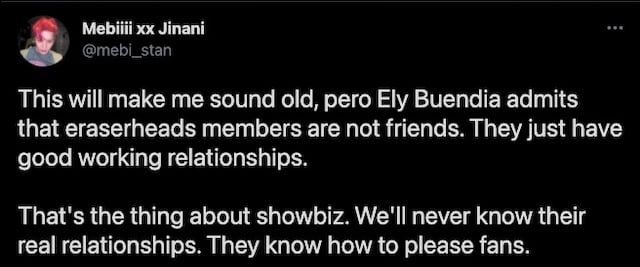 Photo credit: mebi_stan/Twitter

Photo credit: mebi_stan/Twitter
In fact, Ely Buendia shared similar sentiments as he reassured fans that it shouldn't change the way they listen to the songs.
READ: Music is all that matters: Ely Buendia laments hate reaction from Eraserheads fans over "Minsan" truth
Buendia elaborated, "We weren't Itchyworms. We weren't Parokya ni Edgar. But you know, it was good while it lasted. We had a very, very good working relationship. It's just that I don't like it when people say that it was a long way to go in terms of the dynamic within the band."
In a more relatable context, it's like having work friends. You get along with them just fine pero wala kayo sa level that you would confide intimate (and downright incriminating) details about your life with them. Maybe you'll occasionally enjoy the after-work hangout but if you left for another company, baka never na kayo magkita, diba?
We feel for the fans though because songs are so personal as we give them our own meaning. However, it's important to understand that we can't impose our own idealized narrative on others, including public figures whom we admire. These are real people with their own circumstances and you can't push them to start hanging out. If "Minsan" is your barkada anthem then that shouldn't take away from your own special experience with the song.
So to answer the question, "Should we be BFFs with our workmates?"
You can but you it's not required to have a fulfilling career.
Don't get us wrong, if you were able to establish a close bond with a workmate then that's great. However, relationships, whether romantic or platonic, can't be forced and should just naturally happen. (Your vibe attracts your tribe!)
So chin up E-heads fans, just enjoy the music for what it is and you'll get by with a smile.
How close are you with your officemates? Do personal issues get in the way of work? Do you believe in separating your personal friends from your professional friends? Which Eheads song perfectly describes your barkada?