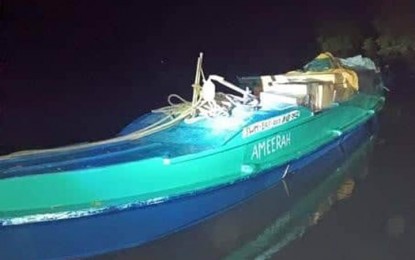 ZAMBOANGA CITY – Authorities arrested five crewmen of a motorboat they intercepted loaded with PHP2.9 million worth of smuggled cigarettes that had just docked in Zamboanga Sibugay province, a top police official said Tuesday.
Col. Richard Verceles, operations chief of the Area Police Command-Western Mindanao, said the motorboat locally known as jungkong skippered by 40-year-old Abdul Garam was intercepted at 11.38 p.m. Monday at the shore of Sitio Garing-Garing, Barangay Tiayon, Ipil, the capital town of Zamboanga Sibugay.
Verceles said Garam's crew were identified as Cammar Hassan, 40, Marvin Dambong, 24, and Mohammad Alih, 26, all residents of Barangay Bus-Bus, Jolo, Sulu. The other crewman, 24-year-old Abbon Anta, is a resident of Malamawi Island, Isabela City, Basilan.
Verceles said the shipment of smuggled cigarettes was intercepted in an intelligence-driven anti-smuggling operation launched by policemen from Ipil Municipal Police Station, Provincial Intelligence Unit, and 2nd Zamboanga Sibugay Provincial Mobile Force Company.
Seized were 204 master cases of assorted smuggled cigarettes worth PHP2.9 million that came from Jolo, Sulu, Verceles said,
He said the arrested crew, confiscated contrabands and motorboat were placed under the custody of the Ipil Municipal Police Station in preparation for the filing of cases against them.
The confiscation of smuggled cigarettes Monday was the third time this month in the region.
The first was on September 5, when suspects were arrested and about PHP140,000 worth of smuggled cigarettes were seized in Barangay Kasanyangan, this city.
The second was on September 6 where authorities arrested five crewmen of a motorboat they intercepted loaded with PHP7 million worth of smuggled cigarettes near Manalipa Island, this city. (PNA)