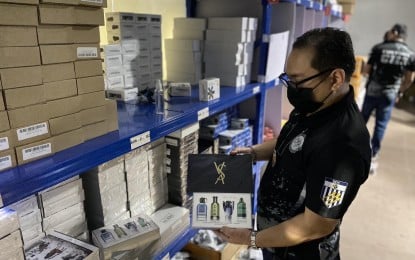 MANILA – Authorities have seized assorted smuggled goods worth PHP50 million in Bulacan province last week, the Bureau of Customs (BOC) reported on Monday.
In a statement, Customs Deputy Commissioner for Intelligence Raniel Ramiro said the operation by personnel from the Manila International Container Port-Customs Intelligence and Investigation Service (MICP-CIIS) and the Philippine Coast Guard in a warehouse in Barangay Bahay Pare, Meycauayan, Bulacan on October 7 yielded around 2,000 sacks of imported red onions, frozen seafood, and cosmetic products.
The operatives from Task Force Aduana presented to the representative of the warehouse owned by Elite Globus Primeholdings Corp. a Letter of Authority (LOA) signed by Customs Commissioner Rey Leonardo Guerrero.
The BOC said red onions were found hidden inside concrete fish tanks.
The frozen seafood, on the other hand, was contained in several storage boxes inside the small cold storage.
Aside from the food products, the operatives also found warehouses with cosmetic products, medicines, vitamins, and supplements without the required FDA permits. These products are supposedly being sold online.
"We've been intensifying our efforts against the illegal importation of agricultural products because this has a direct impact on our farmers and fishermen. Without a doubt, this is something that the bureau is focused on now that the pandemic is pushing our fellowmen into poverty," Ramiro said.
The BOC added that the items found violating Food and Drug Administration (FDA) regulations were forfeited and are immediately due for condemnation while agricultural and household products will be held for 15 days until the warehouse owner can present proof of payment of duties and taxes under Sec. 224 of Republic Act 10863 or the Customs Modernization and Tariff Act (CMTA).
Upon failure of the owner to present importation documents for the imported agricultural and household goods after 15 days, the products will be subjected to seizure and forfeiture under Section 1113 for violation of Sections 117 and 118 of the CMTA.
Last Oct. 8, a Customs examiner began the inventory of the products which was witnessed by CIIS, Enforcement and Security Service (ESS), and PCG personnel. (PNA)