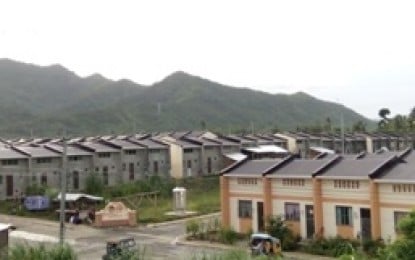 MANILA – Laguna's Paete town received the "first dose" of the Department of Human Settlements and Urban Development (DHSUD) housing project under President Ferdinand R. Marcos Jr.'s "Pambansang Pabahay para sa Pilipino: Zero Informal Settlers Families (ISF)".
Paete Mayor Ronaldo Cosico on Tuesday welcomed the new development, saying it would greatly boost his successful campaign to protect and provide safe and decent homes for his constituents who are in danger zones.
The National Housing Authority (NHA) and DHSUD felt the importance and urgency to grant the application of the neophyte mayor, who presented a resolution from the Paete town council seeking the housing project.
NHA acting General Manager Roderick Ibañez approved PHP25 million for 350 houses, which will comprise the first phase of the project.
The project is part of the 1,300 houses the DHSUD has recently approved in principle for Paete families, most of whom are living along the risky lowlands near Laguna Lake and in a danger zone along the town's mountain cliffs.
Cosico said his constituents whose houses would be affected by the impending road widening will also benefit from the President's housing project.
"Kapansin-pansin po na lahat halos ng bahagi ng national road na naglalagos sa mga karatig bayan ng Paete ay pawang na-road widened na at tanging yung sa amin na lamang ang hindi pa (It is noticeable that almost every part of the national road passing through Paete's neighboring municipalities are already widened except our own town's)," said Cosico, who is serving his first term in office.
The DSHUD has embarked on Marcos' promise to build one million houses for ISFs every year of his six-year term.
Ibañez and other key individuals involved in the project will conduct an ocular inspection of the project site in Barangay Quinela in Paete, Laguna on Friday.
Cosico expressed hope that the DHSUD implementing rules and regulations (IRR) would be released soon so that the entire project for his 1,300 family constituents would be completed without delay.
Since the DHSUD IRR has yet to be released, the Paete housing project is expected to push through, using the old Housing and Land Use Regulatory Board's IRR. (PNA)